Sioux Falls CVB
360 Videos Bring an Engaging New View to Sioux Falls
When Facebook introduced 360 Photos on Facebook in June 2016, it created a new way to share engaging content and made terminology like "360" more mainstream and accessible.
The Sioux Falls Convention & Visitors Bureau and Click Rain saw an opportunity. Sioux Falls hosts many unique events throughout the summer and is home to some iconic attractions—perfect for the 360 experience. In July and August, we mapped out a campaign to capture key events and attractions in 360 degrees. These videos were then shared on Facebook and YouTube to generate exposure and further position Sioux Falls as a vacation destination for all types of travelers.

The Strategy
Since we were trying to reach a wide audience of travelers, three events in July were picked for this project. All were shot using a 360 camera.
Hot Harley Nights is a one-night event in mid-July, featuring—you guessed it—Harleys. The video encouraged travelers to plan to come next year and showed a side of Sioux Falls previously unfamiliar to travelers. It was also an event that hit outside of our primary demographic, helping us reach new audiences.
JazzFest, a free 3-day music festival for all ages, was our second pick. We captured video on the first night and promoted it on Facebook throughout the rest of the festival to attract more visitors to the event in 2016, and beyond.
The Sioux Falls Airshow flies in to Sioux Falls every three years and the video was promoted the week after to capitalize on excitement for this great event.
We couldn't forget the iconic attractions, either. Falls Park and Wild Water West Waterpark are top attractions for summer travelers, and we wanted to show all they have to offer.
Facebook was used as the primary channel to build off the technology as well as the niche targeting for the videos we could incorporate.
The Results
The engagement with these videos speaks for itself. With the unique locations that were selected and capitalizing on the emerging video technology, these videos had some of the best engagement for ads and content promoted on the Sioux Falls CVB social accounts.
Overall, the videos were shared over 830 times, with the most popular being Falls Park and The Sioux Falls Airshow (combined accounting for 79% of total shares). The Facebook videos had an average view rate of 55%, meaning if someone saw the promoted video, over half went on to view at least the first 3 seconds. The highest view rates came from the Airshow (62%) and Hot Harley Nights (64%).
The videos allowed us to reach new audiences, giving visitors a taste of Sioux Falls and all it has to offer. Young families tend to be the main leisure traveler to Sioux Falls during the summer, but that has been changing over the past few years. These niche videos allowed us to showcase different perspectives of Sioux Falls. The Sioux Falls Airshow had over 65% of views from males, with 25-44 being the most engaged audience. Hot Harley Nights also allowed the opportunity to position Sioux Falls stronger within the male demographic, with 57% of views coming from males, predominantly between 35-54. However, women 55-64 accounted for 30% female views.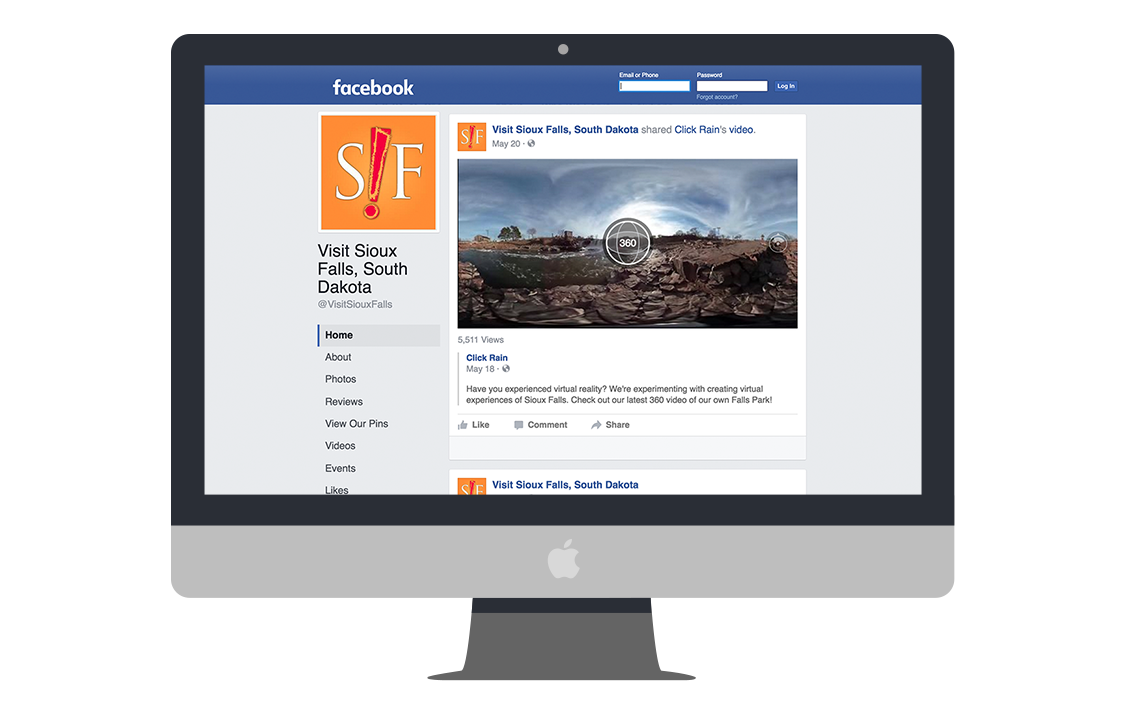 Not only did the videos increase our social engagement but also had a direct correlation to website visitors. During July and August 2016, there was a 916% increase in Facebook referral traffic compared to the same time period in 2015, predominately coming from mobile. During this same time frame, Facebook referral traffic generated 47% of Visitor Guide engagements on the website.
Look for more 360 videos showcasing seasonal events, attractions, and Sioux Falls experiences.