Redlin Art Center
Art and Science: Strategically Growing Email Lists
Demographics, locations, and interests—the number of targeting options can seem overwhelming in Facebook Ads Manager. With so many to choose from, how do you know which one is right for your campaign?
For the Redlin Art Center campaign, gaining e.Club subscribers was the main focus. We decided to build a custom lookalike audience to target since their current subscribers are a highly engaged audience.
Facebook is the best choice when your goal is to reach a large target audience on a single platform. Click Rain ran Facebook ads promoting the Redlin Art Center e.Club to increase the free email newsletter signup. The campaign resulted in a lower-than-average cost per lead of less than $1.30 per subscriber.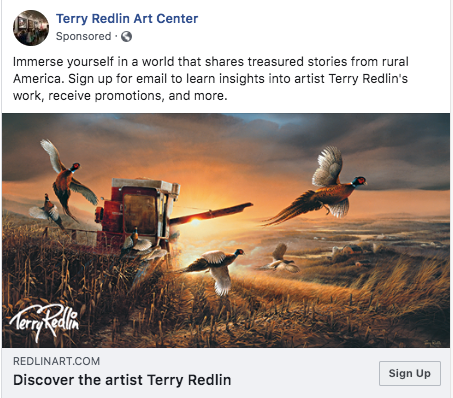 The Objective
Redlin Art Center in Watertown, South Dakota invites art admirers, outdoor enthusiasts, and families to meet at the intersection of art and nature. Host to more than 150 Terry Redlin originals, they encourage visitors to explore some of the natural settings that inspired the painter.
The art center's e.Club members include visitors, Redlin art enthusiasts, and those who want to learn more about the artist. Members receive art center news, stories about Terry Redlin, and promotional discounts for gift shop merchandise.
In 2018, the Redlin Art Center team hired Click Rain to help them grow their e.Club subscriber list. Not only did they want to increase the number of signups, but they also wanted to reach those who were interested in learning more about Terry Redlin and his artwork. With that in mind, we created a strategy tailored to our target audience.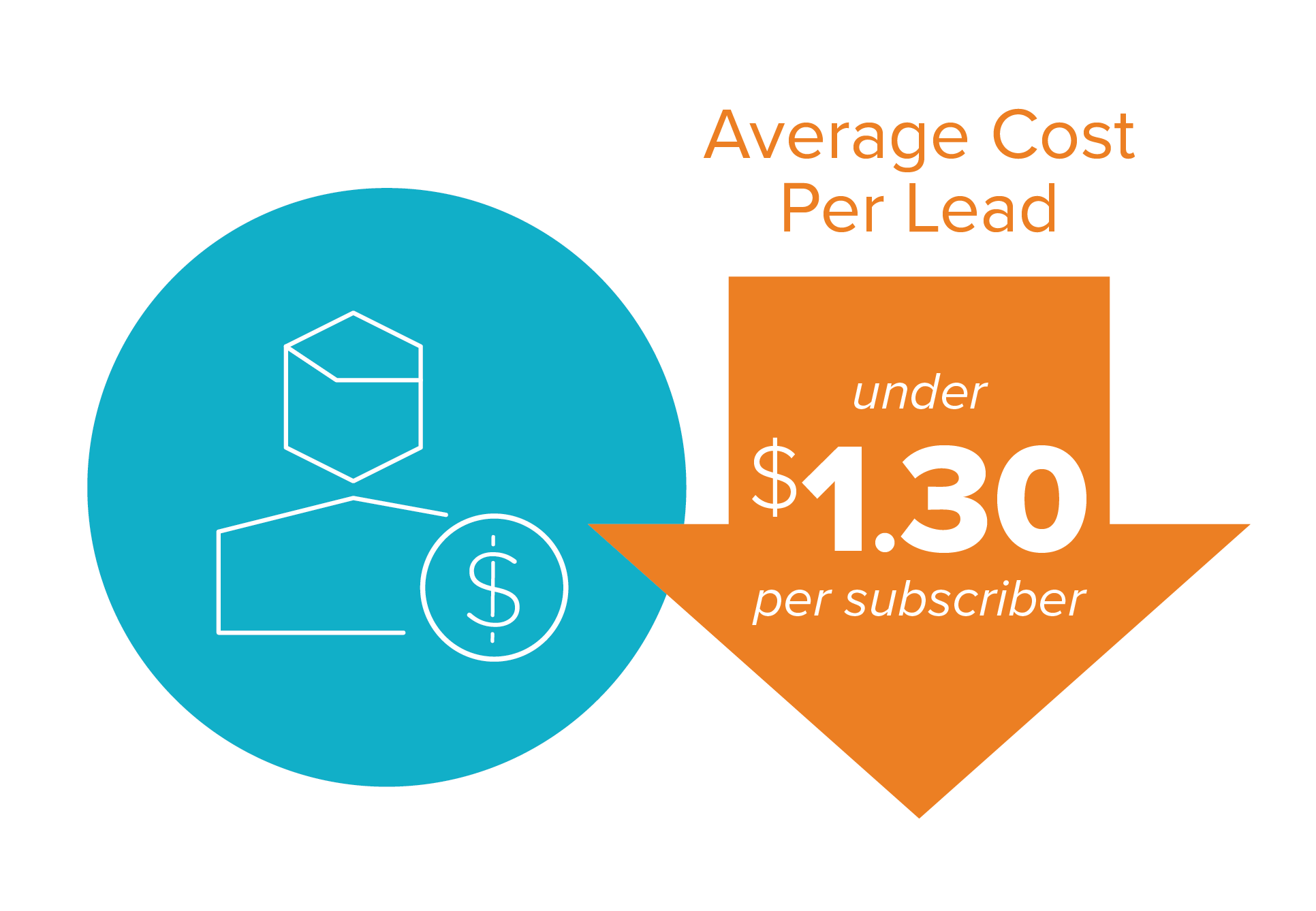 The Strategy
Click Rain ran static Facebook ads targeting lookalike audiences as part of our email acquisition campaign for Redlin Art Center. The goal of the ad was to encourage users to subscribe to the Redlin Art Center e.Club for special offers and updates.
We chose to use a lookalike audience as our targeting method. According to Leadpages, these powerful segments of Facebook users are even more likely to resonate with your marketing due to a closer match of behavior to your existing subscribers and customers. This targeting method was a perfect fit for Redlin Art Center. Their current email subscribers are highly engaged with their email sends and promotions. A lookalike audience would likely result in gaining like-minded subscribers.
Facebook is one of the most widely used platforms in the United States. In January of 2018, Facebook reported having more than 214 million users in the United States (Statista). In addition to the lookalike audience, we layered in targeting of user interests, such as art and wildlife.
The Result
In three months, the Facebook campaign generated close to 600 signups with a cost per lead of $1.29 and a 2.16 percent conversion rate from clicks on the ad to actual signups. This exceeded the average conversion rate of 9.21 percent for Facebook ads across all industries, as well as the 3.25 percent conversion rate for the retail industry (Wordstream).
Through a simple paid media campaign using smart ad formatting and targeting methods, Click Rain and Redlin Art Center saw solid email list growth. These new subscribers are sure to find interest in future Redlin Art Center emails that share Terry Redlin's stories, artwork, and love for the land.