Ice Cream on Wheels
Driving the Right Leads With Targeted Digital Media
There are two types of ice cream truck experiences.
The kind when you hear the tinny tune of the truck turn a corner into your neighborhood and you have just enough time to run inside for money, zip back out, and wait by the curb to collect your frozen prize. 🎉
That's the fun kind.
The other kind? When you aren't fast enough. 😔
Ice Cream on Wheels, a national company made up of hundreds of independently owned ice cream trucks and carts throughout the United States, makes sure everyone's ice cream truck experience is made of the fun variety. Whether at a corporate event or a wedding reception, Ice Cream on Wheels delivers fun right to the curb every single time. It's an easy process to--just pick the type of ice cream party (truck, cart, or cooler), pick a package (budget, family, or corporate), and schedule the event. Ice Cream on Wheels has got the rest covered.
The team at Click Rain revved up Ice Cream on Wheels' efforts with a strategic digital campaign that increased awareness, engagement, and drove huge growth for the company.
Fun stuff!
The Problem
Ice Cream on Wheels already had a strong market presence and business continues to grow in their local markets. A great number of the company's leads come to them through their website organically, typically from parties requesting ice cream trucks at events with 200 or fewer people.
In order to reach current growth goals for the company, Ice Cream on Wheels identified a need to increase the average party size of these corporate leads.
The Ice Cream on Wheels team asked Click Rain to help them focus their marketing efforts on leads with 200+ event attendees. They also wanted to be able to track where leads were coming from in order to analyze which advertising platform helped increase profits most efficiently.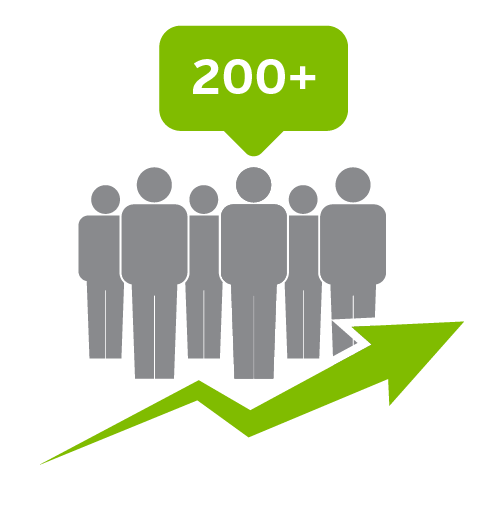 The Solution
Click Rain worked with the Ice Cream on Wheels team to develop a multi-location digital campaign to drive brand awareness and ultimately more leads with larger party sizes during peak ice cream season (April through August).
Target Managers and HR Professionals
Using Paid Search, Social, and Display advertising, we were able to target managers, HR professionals, and other relevant decision-makers for businesses with 200+ employees in markets where Ice Cream on Wheels operates.
We also implemented a remarketing strategy to target users who visited the Ice Cream on Wheels landing page and did not become a lead. Click Rain developed an engaging platform- and audience-specific creative and copy for these advertising channels.
Improve User Experience
Click Rain developed a simple, eye-catching landing page for users to submit an inquiry. This landing page helped outline how Ice Cream on Wheels brings fun to the office without the managers having to lift a finger. All campaign tactics directed users to this landing page, and form submissions were tagged based on the platform and ad type the user engaged with before submitting the inquiry form.
The Results
Overwhelming Response
Within the first month of the campaign, we delivered more than 200 new leads at a lower than expected Cost per Lead (CPL). In addition, the average company size of these leads was higher than the organic website leads. Our top driver of leads was Paid Search, bringing in over 50% of leads with an average company size of 218 employees.
As leads continued to flow in, our team used campaign learnings and refined targeting to reach even more companies 200+ employees.
Ice Cream on Wheels also reported an increased conversion rate for paid media leads turning into customers once this campaign launched.
Seasonality Discovery
Our campaign kicked off during peak ice cream season (April - August) and extended into off-peak season. As we monitored and optimized our media placements, we discovered that the media tactic that was most effective in the peak season (Paid Search), did not drive the same percentage of leads in the off-peak season.
As interest for ice cream declined in September and October due to cooler temperatures across the country, so did search intent. While Paid Search leads decreased, we saw an increase in engagement and a decrease in Cost Per Lead on social advertising platforms (Facebook, Instagram, LinkedIn).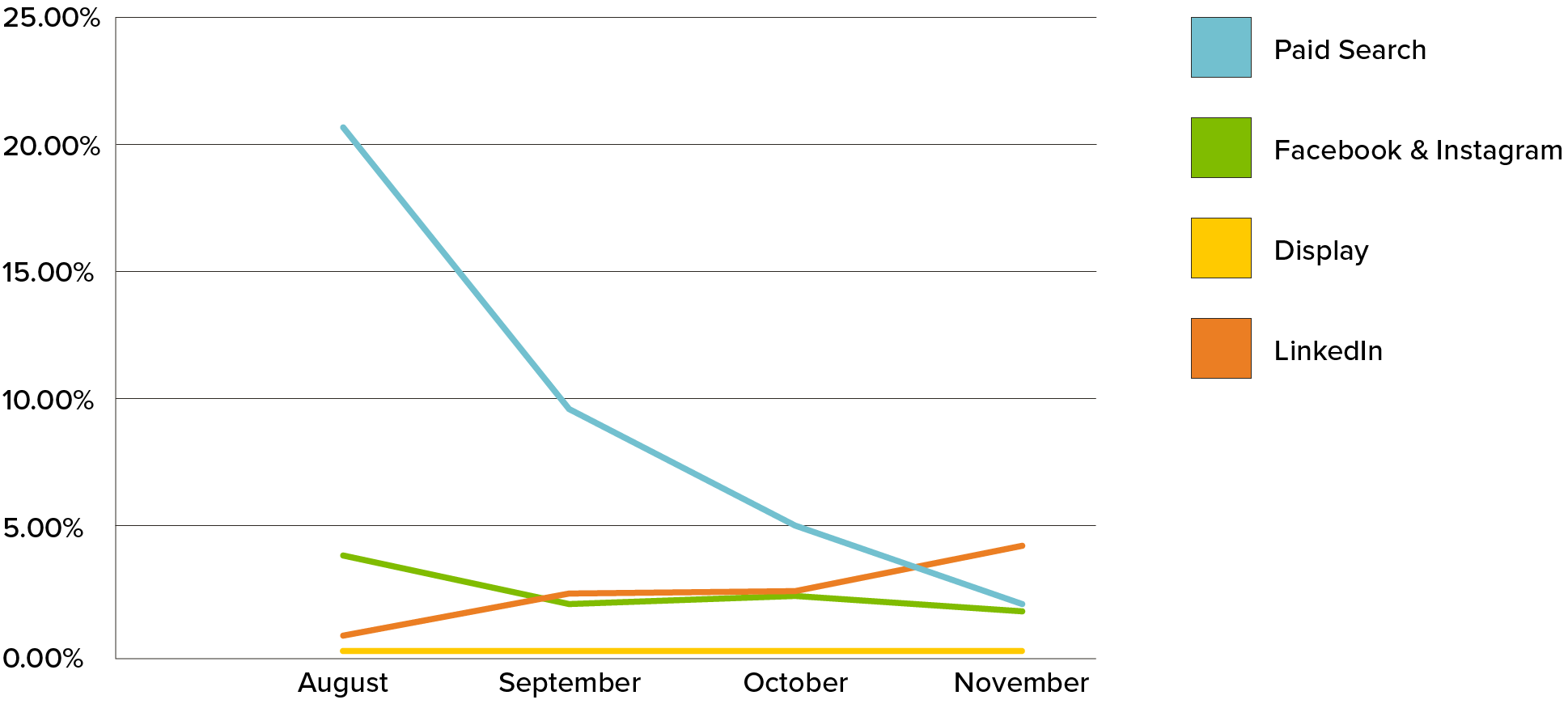 Because we could track where leads were coming from and the cost of those leads, we were able to learn from the data and adjust our strategy in the off-peak season. Rather than relying on people searching for Ice Cream on Wheels' services, our focus in off-peak season shifted to generating awareness of the brand via social advertising. With this key learning, Click Rain developed the optimal media mix for Ice Cream on Wheels both during peak season when demand was high as well as the off-peak season when the focus should be on-demand generation.
What's Next
As the ice cream truck industry evolves to make scheduled stops a more core driver of revenue, Ice Cream on Wheels is positioned for growth in new markets by catering to corporate culture-building events. After all, isn't an office party without ice cream just a meeting? 😉