Sioux Falls CVB
Personalized Content and Ads Make a Difference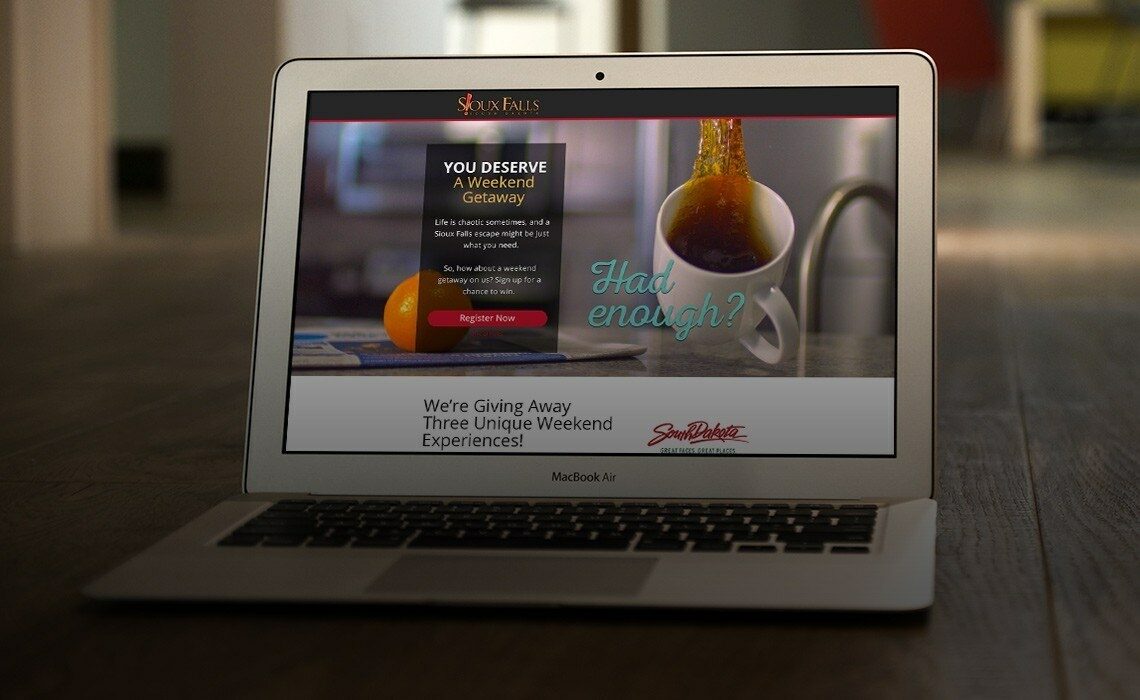 The Problem
The Sioux Falls Convention and Visitor's Bureau wanted to promoted Sioux Falls as a getaway destination this winter and increase their email subscriber list.
The Solution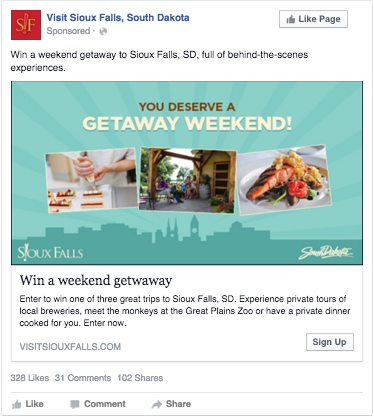 We partnered with the Sioux Falls Convention and Visitor's Bureau to provide a comprehensive digital marketing and communication strategy.
We started with finding the motivation behind a weekend getaway. Stresses of life—the carpool, picking up the house, or spilling your coffee for the third morning in the row—and capitalized on identifying with that stress.
The campaign gave users the opportunity to register to for three unique weekend experiences full of once-in-a-lifetime opportunities like meet-and-greets with monkeys at the Great Plains Zoo, behind-the-scenes tours of local attractions and wineries, and even sharing dessert at C.H. Patisseries with Chris Hanmer, winner of Top Chef Just Desserts.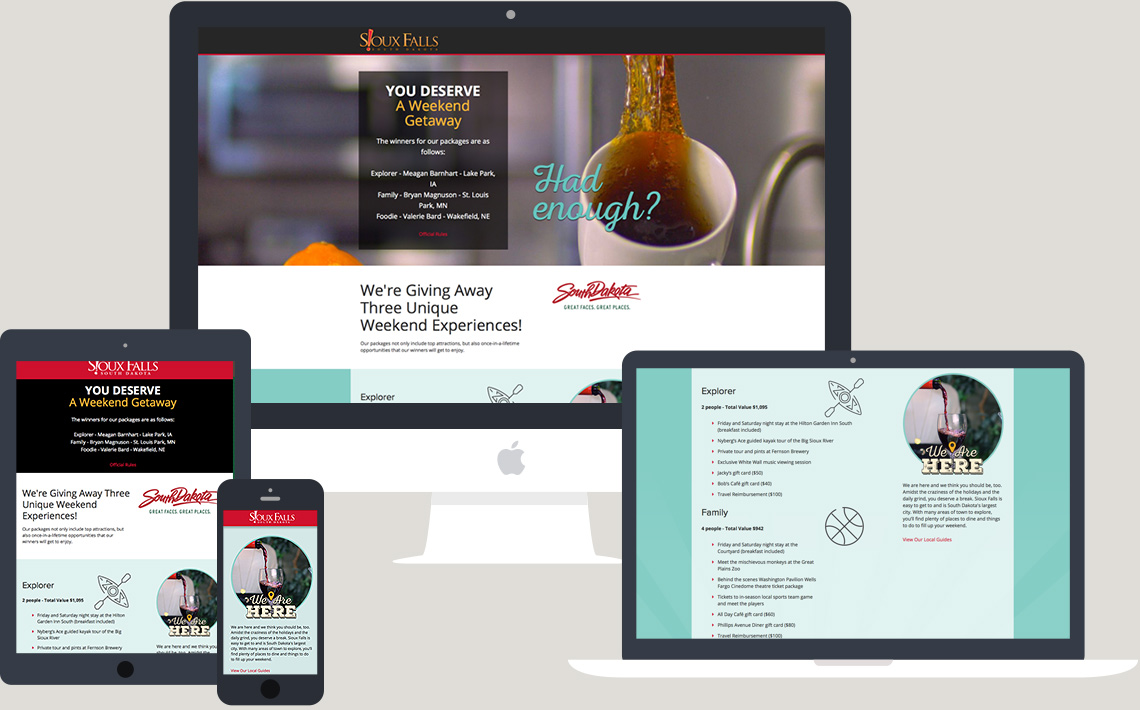 Our tagline, "You deserve it!" and corresponding social, display, email and pre-roll creative all worked together for a unified campaign that reached consumers on a variety of platforms.
Through strategic placements, our pre-roll videos generated over 1.3 million views with a 68 percent completion rate. The style of the videos mimicked the stressed nature of daily life through the slow motion spilling of coffee, legos tumbling down the stairs and a plate crashing to the floor. The videos then sped up to reveal the relaxing and fun counterpart–a glass of wine, or a trip down a waterslide.
"Working with the Phantom Flex high-speed cinema camera is fascinating, this camera goes really, really fast so that we can see life slowed down to really, really slow. We were shooting between 1,500 and 2,500 frames per second, which translates to between 60 and 100 times slower than real life when played back at a standard 24 frames per second. I think the visuals speak for themselves—tiny chaotic moments in time stretched out so that you can see every detail. There's something operatic about it—a front row seat to some visual magic. There are technical challenges associated with this kind of shooting—you need a lot of light, and you need special lights that won't show any flickering, and the camera is heavy and requires a lot of power to operate, but I'm very proud of how we managed to put the camera in interesting places and capture these deliciously crazy moments."
—Jesse Brauning, Creative Media Strategist
The Results
Our targeted and optimized ads brought over 12,500 entries into the Weekend Getaway sweepstakes, half of which also signed up for the email list. By choosing from a list of personas which they identified with, like adventurer, foodie, romantic or explorer, we could communicate more effectively and provide a more relevant experience to to prospective visitors.
Our Facebook ads, which promoted various pieces of content, were targeted based on personas and had a conversion rate of over 40% and made up 21% of total campaign conversions. We promoted tailored pieces of content that gave local and insider tips to prospective visitors that corresponded with personas.
Emails benefitted most from persona based communication which included upcoming events and places to visit in Sioux Falls tailored to the recipient's interests. Those sent with persona messaging had a 97% higher open rate than the non-tailored newsletters.
We also tracked offline advertising through the use of vanity URLs and were able to attribute almost 2,000 contest submissions to newspaper inserts in a variety of markets.
million views

Our three pre-roll videos were targeted based on propensity to travel and had a completion rate of 68 percent.

contest entries

Through a variety of traffic sources, we had over 12,500 non-duplicated entries for the You Deserve It contest. Of these, just under half also subscribed to the Sioux Falls CVB email list.

higher open rate

By sending emails with relevant persona based information, we were able to increase the open rate by 97% over non-persona emails.