December 14, 2016 |
Michaela Bernard
7 Tips to Win at Holiday Email Marketing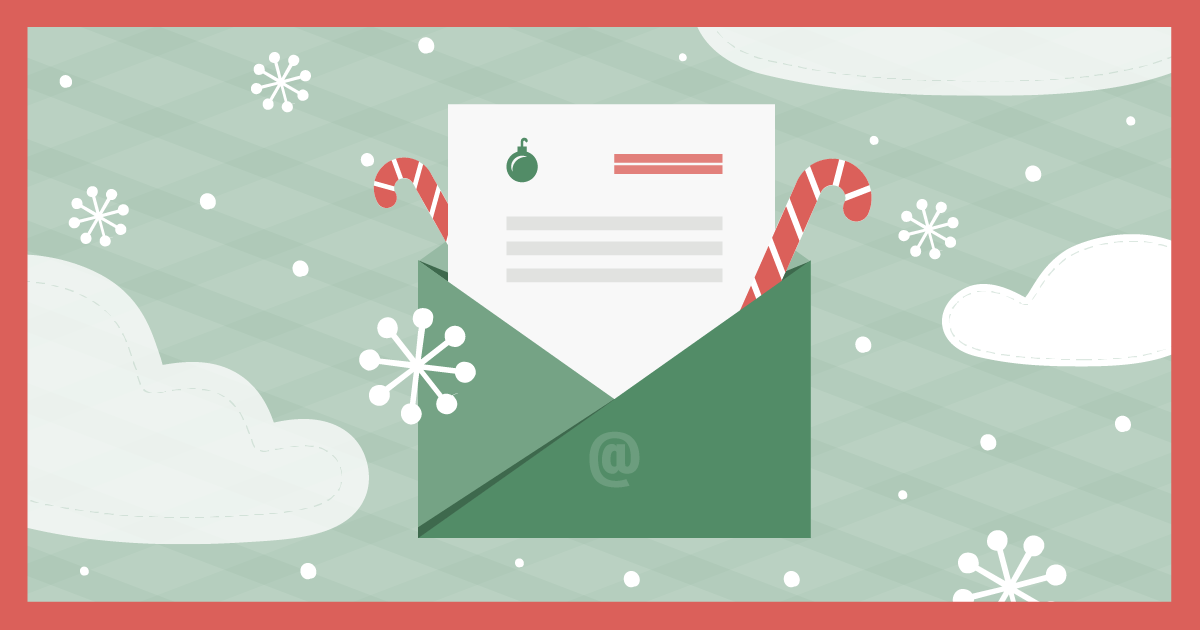 I love Christmas—a.k.a., I've been listening to Christmas music since the beginning of September.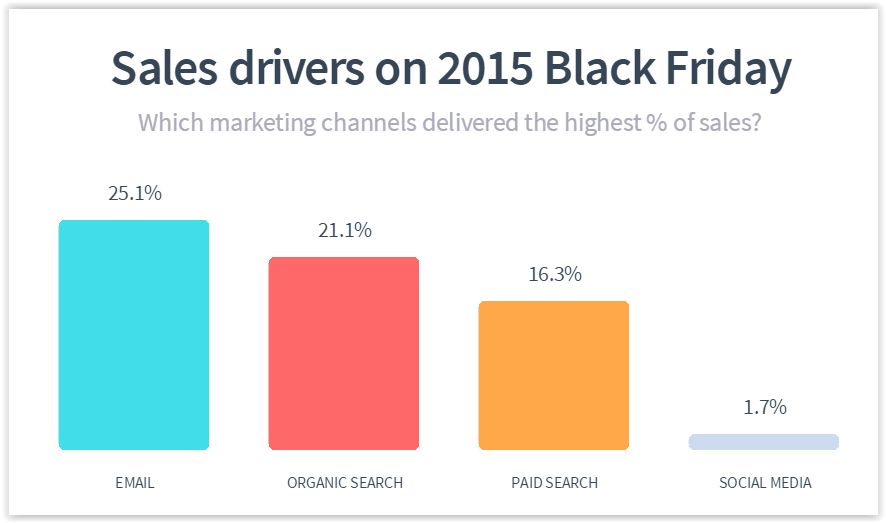 Though I've heard from everyone that listening to Christmas music before Thanksgiving (or even Halloween) is insane, it's important to start planning holiday email marketing campaigns right now.
In 2015, the main sales driver for marketers was email marketing, which beat out online search—both free and paid—to become the primary driver of US online sales on Black Friday. In total, it accounted for 25.1% of sales.
Here are some tips on how to jingle all the way to your holiday goals with email marketing leading the way.
Rockin' Around Your Industry
It's important to understand your industry when creating your holiday email marketing plan. If you sell turkeys, fall clothing, children's toys, or other expected gifts related to the fall and winter holidays, you probably have a plan under control. But most companies can find a way to promote their industries during this holiday season.
With a day like Cyber Monday, if you have an online presence (hopefully you do!), you'll be able to offer online-only promotions or in-store promotions especially for email subscribers. With holidays like Christmas, you can send out festive messages, but make sure that you don't overdo it. (Not everyone is as obsessed with Christmas as I am.) Also consider the cultural background of your ideal audience: not everyone celebrates Christmas and your campaign may need to account for this.
Your holiday emails may consist of wishing a happy holidays to your loyal customers or promoting specials on products or services. If you want to promote your products without being too pushy, create helpful blog posts and emails like "10 presents he'll love" or "5 gifts every college student wants." These build relationships and don't just focus on the hard sell; your customers will know that you want to help them find the perfect gift.
Carol of the Mobile-Optimized Emails
For the past few years, mobile optimization has been highly promoted. In 2015, 48% of holiday traffic came from mobile devices, with 76% of Black Friday and 63% of Cyber Monday emails opened on mobile. An extra amount of emails will be coming to your subscribers' inboxes during the holiday season. It's important that if they open your emails, your message is optimized for your customer wherever they are, whichever device they are on. If they have to pinch and zoom to read it, they are more likely to skip to the next email in their inbox.
Last Christmas: Look at Past Campaigns
If this isn't your first time sending holiday emails, you can look at what you did last year for advice on what you should or shouldn't do this year. Determine what your goals are, and use what you learned from previous campaigns to inform your strategy. Make sure to look at past subject lines, email format, and calls to action and avoid using ones that had lower open, click-through, and conversion rates.
Take a look at your analytics and use this data to A/B test your campaigns. For example, did more people open an email and convert on Black Friday or Cyber Monday? You may want to consider adjusting your usual send times for the holidays, based on what day of the week the holiday falls on or whether your audience is more engaged at certain points throughout the season.
Make a List, Segment It Twice
OK, maybe you don't have to segment it twice, but the holidays are the best time to send customized messages to your subscribers. If you don't have information about your subscribers beyond their email address, you can't really segment and customize your emails. However, if you do have the data, you can segment your list in a variety of ways, including:
Customers who typically open your emails vs. those who never open your emails
Customers who made a purchase during the holidays last year vs. those who didn't
Customers who live within a 25-mile radius of your business vs. those who live beyond a 25-mile radius
In a platform like Campaign Monitor, you can add this additional information to your recipients' data by associating answers with a category. As in the example below, if you have a subscriber that is 27, a woman, and lives in Detroit, they will be included in this segment and you can customize your content experience for 20–30-year-old females who live in Detroit.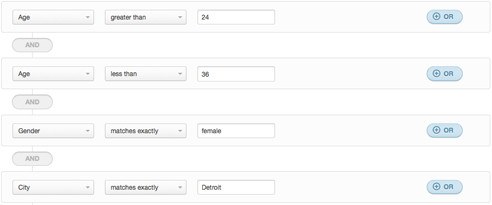 However, if you are going to segment your recipients, think about what type of content you want to send each group. There's no point in segmenting your lists if all of your subscribers receive the exact same message. Make sure to clean up email lists—if you get too many spam complaints or undeliverable emails, you could get blocked from sending emails because of the high volume of emails sent during the holiday season.
Deck the Inboxes with Amazing Subject Lines
According to Campaign Monitor, about 33% of subscribers decide whether or not to open your email based on the subject line alone. You may have the greatest promotion with the most phenomenal design, but if no one ever opens your email, it doesn't matter. It all starts with the subject line.
The holiday season gives you the opportunity to try out fun subject lines. Consider personalizing your emails with subscriber data since emails with personalized subject lines are 26% more likely to be opened. You could explain what type of deal you are offering or you could ask your subscribers a question like "Ready to save 50% on Black Friday only?" You can also use holiday buzzwords or even holiday emojis in your subject line. Emojis really make your email stand out and brands have seen a 45% increase in unique open rates from subject lines with emojis. Don't use an emoji just to use it—save space and stand out in your subscribers' inboxes with unique and relevant emojis. The snoman emoji is listed as one of the best symbols to use—perfect for your winter holiday emails.
Since subscribers are always on-the-go, email subject lines can also contain an urgent deadline with Black Friday or Cyber Monday-only deals or specials for those who save Christmas shopping for the last minute.
Don't Save All Your Emails for Christmas Day
Start planning your holiday email marketing plan now. Prep for the holidays before they come. Here are the important holidays to keep on your list this holiday season:
Thanksgiving, November 24
Black Friday, November 25
Small Business, Saturday, November 26
Cyber Monday, November 28
Green Monday (Similar to Cyber Monday), December 14
Free Shipping Day, December 16
Hanukkah, Begins December 24
Christmas Eve, December 24
Christmas, December 25
Boxing Day, December 26
Kwanzaa, Begins December 26
New Year's Eve, December 31
New Year's Day, January 1
You don't need to send an email for every one of these days, but it's important to keep them all in mind when you are planning so that none of the holidays sneak up on you. Meet your customers where they are in their planning. If you send an email out at the beginning of November, your subscribers may not be Christmas shopping yet, but they are preparing. If they are stressing about presents mid-December, reach out, but not in a pushy way. Don't stress them out further, but do your best to help them with their wants and needs, like fast and free shipping or a countdown on your site that informs shoppers how many days they have left to get their gifts shipped before Christmas day.
Sound like a lot of work? Setting up automated emails is a perfect way to save time during the craziness of this holiday season. Thinking of sending welcome emails to new email subscribers? Add in a holiday message or deal to your welcome emails. Sending out Black Friday emails? Set up automated emails to go out on Cyber Monday for anyone who didn't open or interact with the Black Friday emails. But while you are setting these up, remember how many emails your subscribers are getting this holiday season and don't send them too many; focus on quality over quantity.
All I Want for Christmas Is You: Thank Your Customers
Remember what this holiday season is about: being thankful for loved ones and for your customers. If your customers weren't there the other 9 months of the year, where would your business be? People expect to be sold to during the holidays, and you should definitely take advantage of this popular shopping time, but most people don't expect you to thank them for being an awesome customer without a catch. You can still promote your products and services by thanking them and giving them a discount and wishing them a happy holidays.
As the holidays approach, remember to plan early, A/B test, segment your lists and customize your messages based on your subscribers and industry—and spread a little cheer by saying thank you. I wish you the happiest holiday season and a successful email marketing campaign!