Allie Hartzler Promoted to Senior Marketing Engineer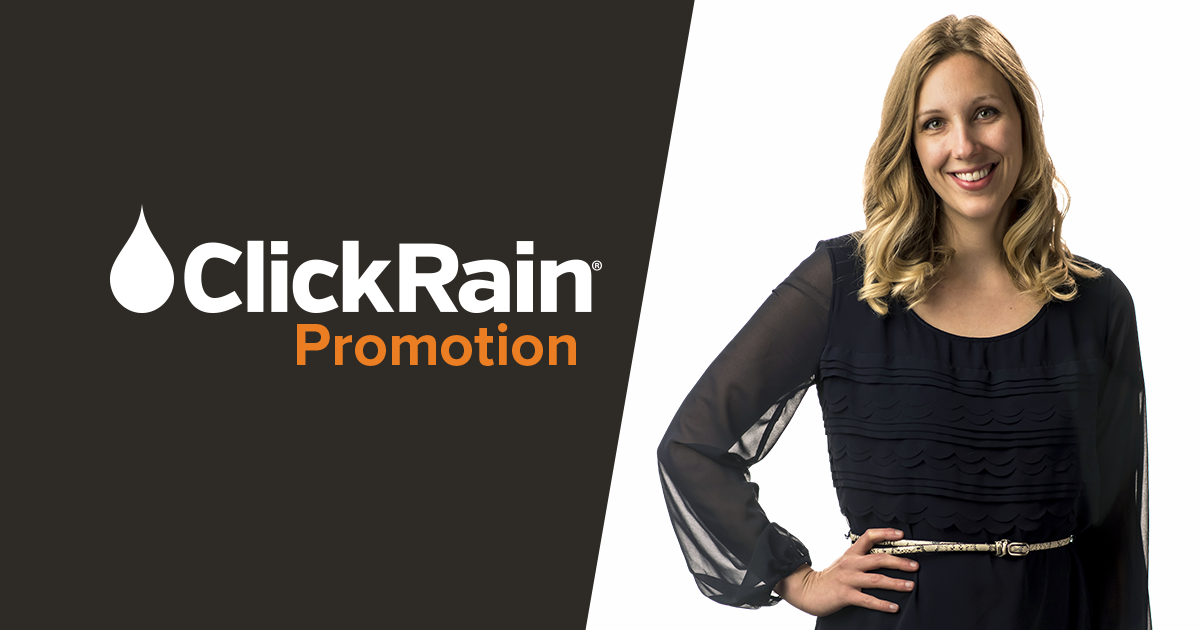 Published in
Reading Time: 1 min. 30 sec.
Allie Hartzler has been promoted to a senior role on the marketing technology team. The promotion recognizes her excellence in the field and lets her take on new responsibilities at Click Rain.
Allie joined Click Rain in November 2015 as an online marketing strategist, a title that changed to marketing engineer in 2016. In just one year, Allie has led successful campaigns for a number of clients, with brilliance, grace, and a little bit of humor.
"Since Allie joined Click Rain she has continually been pushing for ways to improve the work we do and the insights we provide to our clients," says Kate Kotzea, director of marketing technology. "She loves learning about new technologies and client industries—which keeps her always evolving and upping her game. I'm excited to see her grow in her new role, offering high-level strategy to more clients and helping to grow the MarTech discipline."
***
In Conversation
Congratulations on your promotion, Allie! What can you tell us about your new role?
As our team grows to include more newbies (interns, associate marketing engineers), I'll be sharing my experiences to help shape the way they work and think. I'm so excited about that! The things I know now that I wish I'd known—I'll be able to share with others. I'm looking forward to helping others discover their passions and get them excited about the MarTech world.
So what gets you excited about the MarTech world—or your job in general?
I love my smart, funny, and kind coworkers. And I love working with our clients! I love sharing an insight or idea or perspective with a client that they haven't thought about before. I get excited about looking for innovative ways to help their businesses grow.
Speaking of innovation—any digital trends you're looking forward to in 2017?
Conversion Rate Optimization isn't new, but it's something I'm hoping to do more of this year. I'm excited to see how we can focus this year on creating a better experience for the customers we already have, rather than only focusing on getting new ones.
Any other thoughts you'd like to share?
I'm so grateful to be part of such an awesome organization, and I can't wait to continue growing together!
We are so grateful to have you on our team, Allie. Congratulations!