March 21, 2017 |
Click Rain
Announcing: Trendigital Lunch & Learns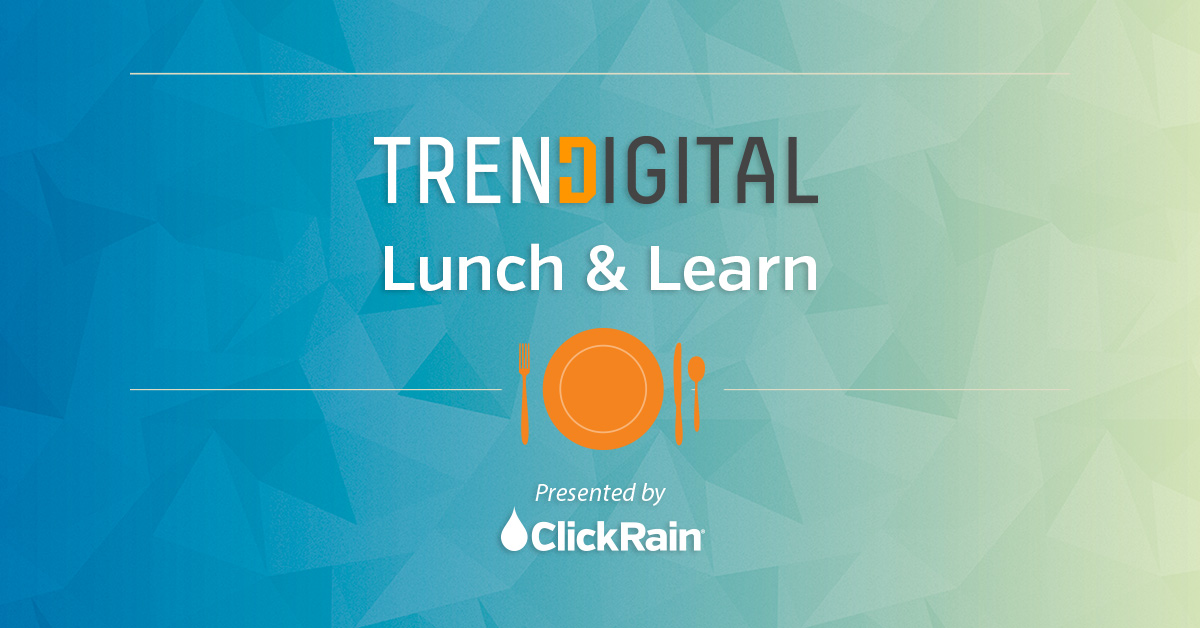 Published in
Reading Time: 3 min.
Each year, we host Trendigital, the largest marketing technology conference in the region. We didn't want to wait a whole year to share Trendigital knowledge and talk with the region's best companies and minds. So we're taking the show on the road with Trendigital Lunch & Learns. This April, our team will be in Sioux City, IA for a mini-Trendigital Lunch & Learn. Three talks, lunch, discussions and networking—what could be better? Oh yeah, and it's free!
If you're in either area, please join us. Doors will open at 10:50 a.m. and the lunch begins at 11.
Speakers
Eric Ellefson, VP of Innovation. Virtual reality, augmented reality, and artificial intelligence are happening now. Companies like Facebook, Google, and IBM have championed these technologies, making them realities for consumers and marketers alike. Eric Ellefson, Vice President of Innovation and Partner at Click Rain, will discuss the evolution of media, share real-world examples impacting businesses today, and explore their impact on the future of your business.
Kate Kotzea, Director of Marketing Technology. Social media is the cool kid on the block. But email is the real powerhouse of digital conversion. According to Pew Research, 92% of online adults use email, with 61% using it on a daily basis. In this session, Kate will share insights on how to make your email marketing campaigns shine in 2017. Be in the know on subject lines (emoji or no emoji?), deliverability, automation, design and content best practices, and list segmentation.
Chris Prendergast, VP of Operations. In the era of big data, quantity is often mistaken for quality. "Data-driven marketing" is not just an empty phrase—the right numbers presented in the right way can prove the value of marketing and drive smarter decisions company-wide. Join Chris as he shares how better reporting through data storytelling can elevate marketing within your organization.
Lunch and Learn Day & Time
Sioux City, IA - April 21 11:00-1:00pm. Doors open at 10:50 Marina Inn 385 E 4th St South Sioux City, NE 68776