August 28, 2014 |
Kristina Johnson
Click Rain Recognized For Its Exemplary Workplace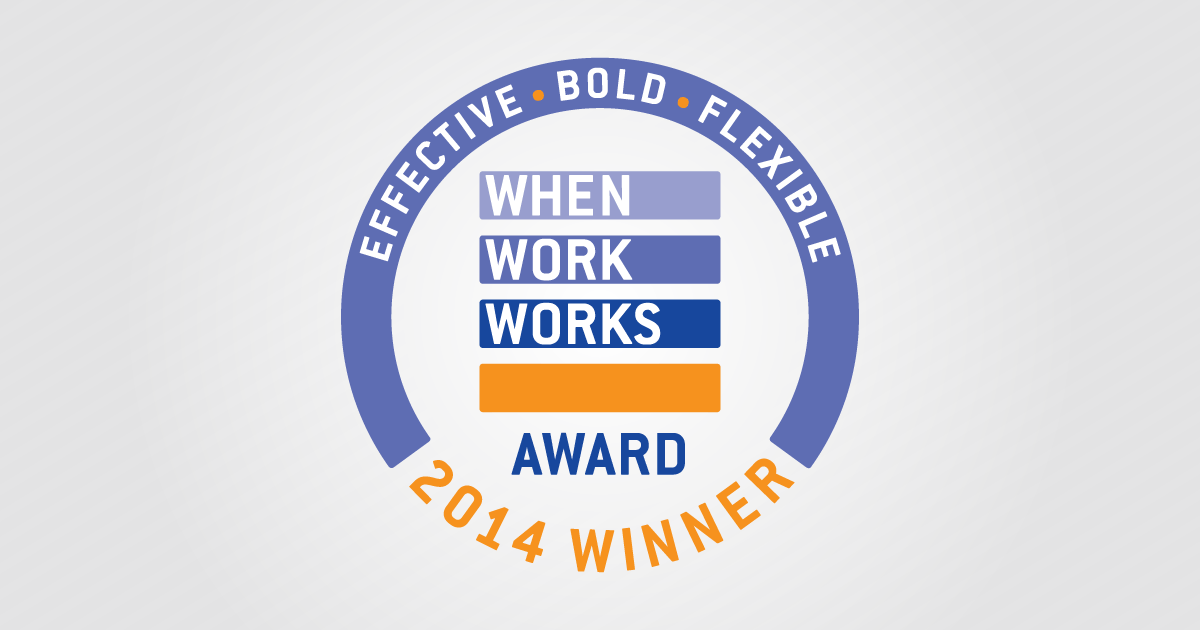 Click Rain has been honored with the 2014 When Work Works Award for its use of effective workplace strategies to increase business and employee success.
This prestigious award, part of the national When Work Works project administered by the Families and Work Institute (FWI) and the Society for Human Resource Management (SHRM), recognizes employers of all sizes and types in South Dakota and across the country. Nationwide, 284 workplaces are being recognized. Click Rain is the only South Dakota business on the list.

"Our people are our biggest asset, and making sure they enjoy their job and have a good work-life balance is extremely important to us," said Eric Ellefson, Partner and VP of Operations at Click Rain. "The research that these organizations provide validates the programs we put in place to carry out that vision."

The award is the result of a rigorous assessment. Worksites must first qualify in the top 20% of the country based on a nationally representative sample of employers. Two-thirds of the evaluation of applicants comes from an employee survey. Applicants are evaluated on six research-based ingredients of an effective workplace: opportunities for learning; a culture of trust; work-life fit; supervisor support for work success; autonomy; and satisfaction with earnings, benefits and opportunities for advancement — all factors associated with employee health, well-being, and engagement.

Click Rain offers several programs to team members to increase workplace happiness and employee growth, including flextime, opportunities to attend conferences, a casual work culture, company paid trips to places like Las Vegas, Cancun and Minneapolis, weekly learning & growth meetings, company supported service-learning trips, and quarterly personal development plans. 

"These employers are making work work in innovative and inspiring ways and set an example for employers both nationally and internationally," said Ellen Galinsky, president of Families and Work Institute.

"The When Work Works Award recognizes organizations that foster a culture of workplace flexibility and effectiveness, which gives them a competitive advantage. Their practices set them apart from other organizations," said Lisa Horn, director of SHRM's Workplace Flexibility Initiative.

For a list of winners check out an interactive map that includes winning organizations by state.

For more information, please visit www.whenworkworks.org.

About Click Rain
Located in Sioux Falls, SD, Click Rain is the largest and most experienced online marketing firm in the region, providing expertise in web design and development services, and online marketing, as well as public speaking and consulting services. Click Rain's team of 25 developers, designers, online marketing strategists and account managers serve 100+ clients in over 25 states. Clients range from hospitality management companies, political candidates, health care systems, colleges and universities, and manufacturing companies.
About When Work Works
When Work Works is a national initiative, led by the partnership of the Families and Work Institute (FWI) and the Society for Human Resource Management (SHRM), to help businesses of all sizes and types become more successful by transforming the way they view and adopt effective and flexible workplaces. When Work Works is one of the foremost providers of resources, rigorous research and best practices on workplace effectiveness and flexibility in the nation. The initiative administers the prestigious annual When Work Works Award, which recognizes exemplary employers for creating effective workplaces to increase business and employee success.