August 1, 2017 |
Emily VanGerpen
Click Rain Serves: Nicaragua 2017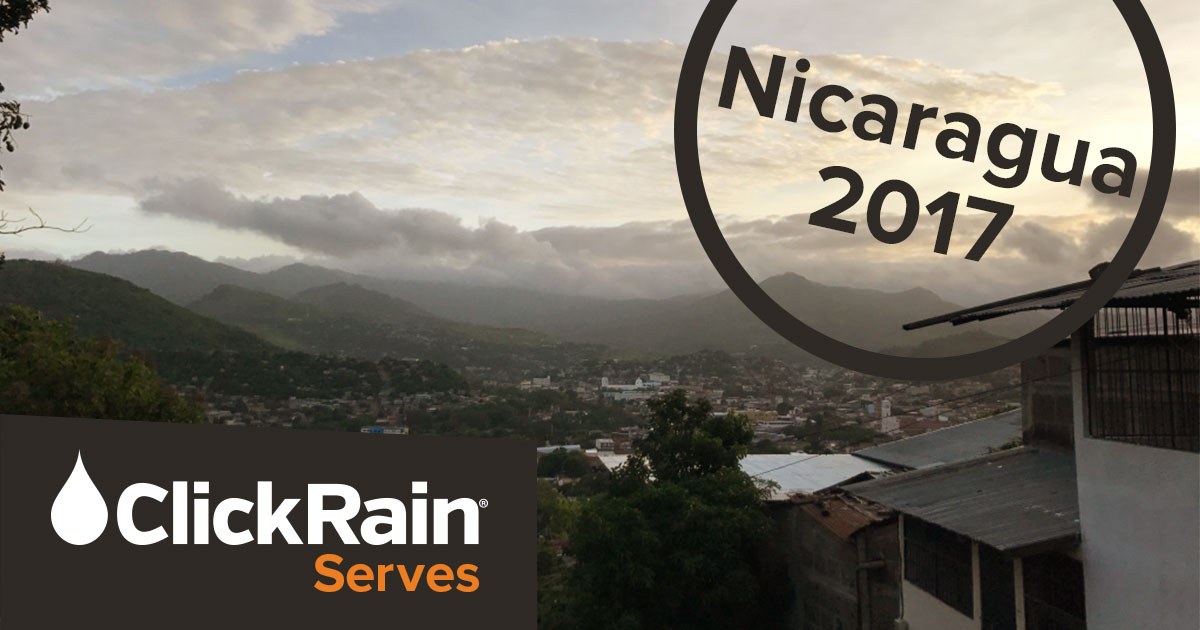 Published in
Reading Time: 7 - 8 min.
Did this trip change my life? Not in the past tense, no. It's changing my life.
The Dispatch Project's trip to Nicaragua was both my first mission trip and first time leaving the country. Despite all the questions that accompany an international adventure—"What should I know about the culture? Do I need to pack bug spray and nine protective layers of clothes? How will I tell Mom we made it there safely?"—I never felt nervous or uncertain about going. Only excited for what would happen as a result.
Our eight-member team included fellow Click Rain employees Mark Drzycimski (this year's fearless leader) and Kaitlyn Martinez. The team met as a group before leaving, got to know each other, and learned more about what it means to serve.
Our key takeaway? A short-term trip won't resolve the pollution, corruption, and other daunting issues. Rather, our purpose there was to encourage—to reassure those we encountered of their worth, their work, and their role in fulfilling God's plan. So from June 10 to 19, that's what we did.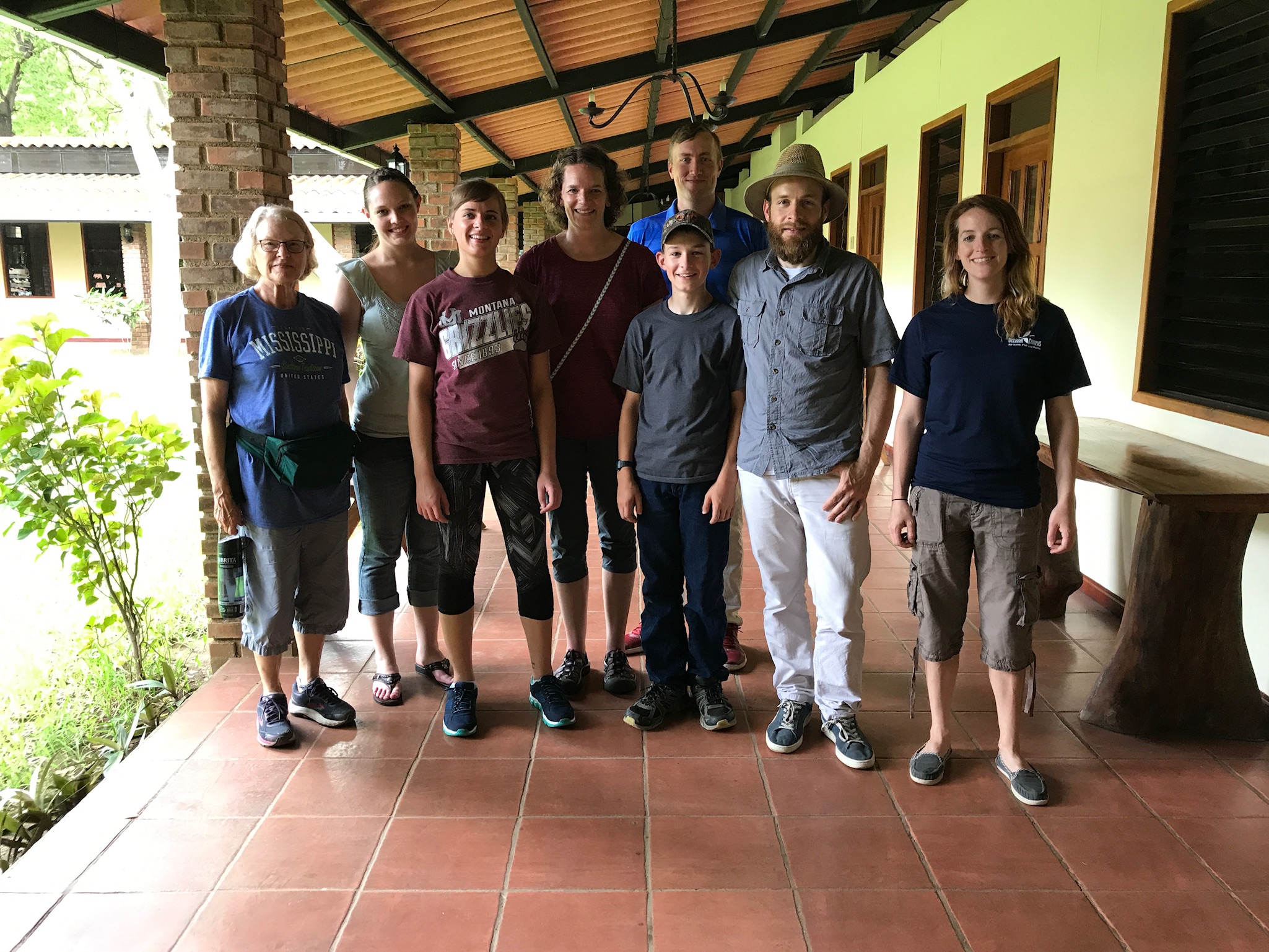 June 10-11
Our plane landed in Managua, Nicaragua's capital, on Saturday night. Within an hour of deboarding we were heading through the city. (I would say we were "speeding through the city," but I saw no speed limit signs at any point during the week, so it's anyone's guess.) Even after dark, the city offered more than I could take in: bright lights, endless rows of buildings, motorcycles fearlessly weaving through traffic, and air so humid that it muffled all sound.
We settled into our dorm-style rooms at the Nehemiah Center, an organization that focuses on developing the health, growth, and holistic mission of the Nicaraguan and Latin Church. On Sunday morning, we attended a church service at the International campus of the Nicaragua Christian Academy (NCA) in Managua. Afterward Liam Starkenburg, the school's director, gave us a tour of the school and explained its commitment to building leaders on a foundation of Christian education.
June 12-14
On Monday morning we arrived at the NCA Matagalpa campus. Once inside the gates, it felt like we had left the city. Outside every room's open windows are breathtaking mountain views, and the only noises are bird calls, a slight breeze, and children's voices.
Greg Kynast, director of NCA Matagalpa, showed us around before sending us off to different classrooms. I was assigned to Miss Shannon, an Ohio native who teaches English as a second language. (And since students aren't allowed to speak Spanish in her classroom, the lessons were perfectly understandable.)
Watching her teach was a unique learning experience for me; communicating English is different than constructing and punctuating sentences. Granted, that all has to be learned as well, but differently than in the States. For example: using mathematical activities to teach the difference between words that sound similar like "seventeen" and "seventy." Or using medical terms that teach students what medications help with different types of pain.
As I graded papers and listened to lessons, the rest of the team observed classes, helped the IT staff with programming, and offered assistance wherever needed. School ended at 3 p.m., giving us the rest of the afternoon to be tourists and see local sights like the Calvario lookout. Perched above Matagalpa, the lookout offers an indescribable view of the city and valley below.
Tuesday's schedule was similar to Monday. After school was out, Lesther (our van driver) and David (our translator) took us and three of the schoolteachers to Cascada Blanca—a Jurassic Park-esque waterfall and cave outside of Matagalpa. One hour and one sloth sighting later, our crew returned to town.
Our time at the school concluded after lunch on Wednesday. Before leaving for Jinotepe, we all wrote notes for the teachers, encouraging them to continue doing God's work in the lives of their students.
Greg had explained during our tour that having service teams in the school doesn't happen often—groups often opt for service involving more manual labor. As a result, it's easy for the teachers to get discouraged and sometimes feel forgotten. Our roles there were to support these individuals and reassure them of their purpose.
June 15-16
Three hours southwest of Matagalpa is the small town of Jinotepe. On Thursday morning our team spent an hour at the Luke Society, hearing from its directors about their work in the surrounding villages. The non-profit organization focuses on five different areas of education; most of our discussion covered their malaria prevention and sustainable agriculture efforts.
From there we drove to the Society's rural research center. Once finished, the building will serve as a site for experimentation with different plant types and farming practices to help surrounding farms. Currently, though, the building needs some finishing touches. That's where our team came in.
We covered the walls with primer, working alongside members of the Society and nearby community. For lunch we visited the community leader's home, where he explained his role as the area's agricultural resource. Part of his job is to experiment with ways to grow plants in the varied climate conditions their mountain location experiences. (Until this year, they hadn't had enough rain in three years to support the usual plant life.)
After an authentic lunch in an even more authentic setting, we finished priming the building and went back to town. Just when we thought we were done for the day, we heard music down the street.
Being the curious travelers that we were, we watched from our door as a local band practiced out on the street—until they invited us to join. We observed for a while and communicated occasionally (thanks to Kaitlyn's fluent Spanish-speaking skills) and were invited to join the group's bible study the following night.
On Friday morning we went back to the research center, this time working on rebar for the site's next building. A few hours and a few blisters later, we went to another nearby farm for more agricultural education and a tour of their experiments in action. Growth techniques include everything from planting in large holes that catch more water, to the different types of garden mulch that best retain moisture.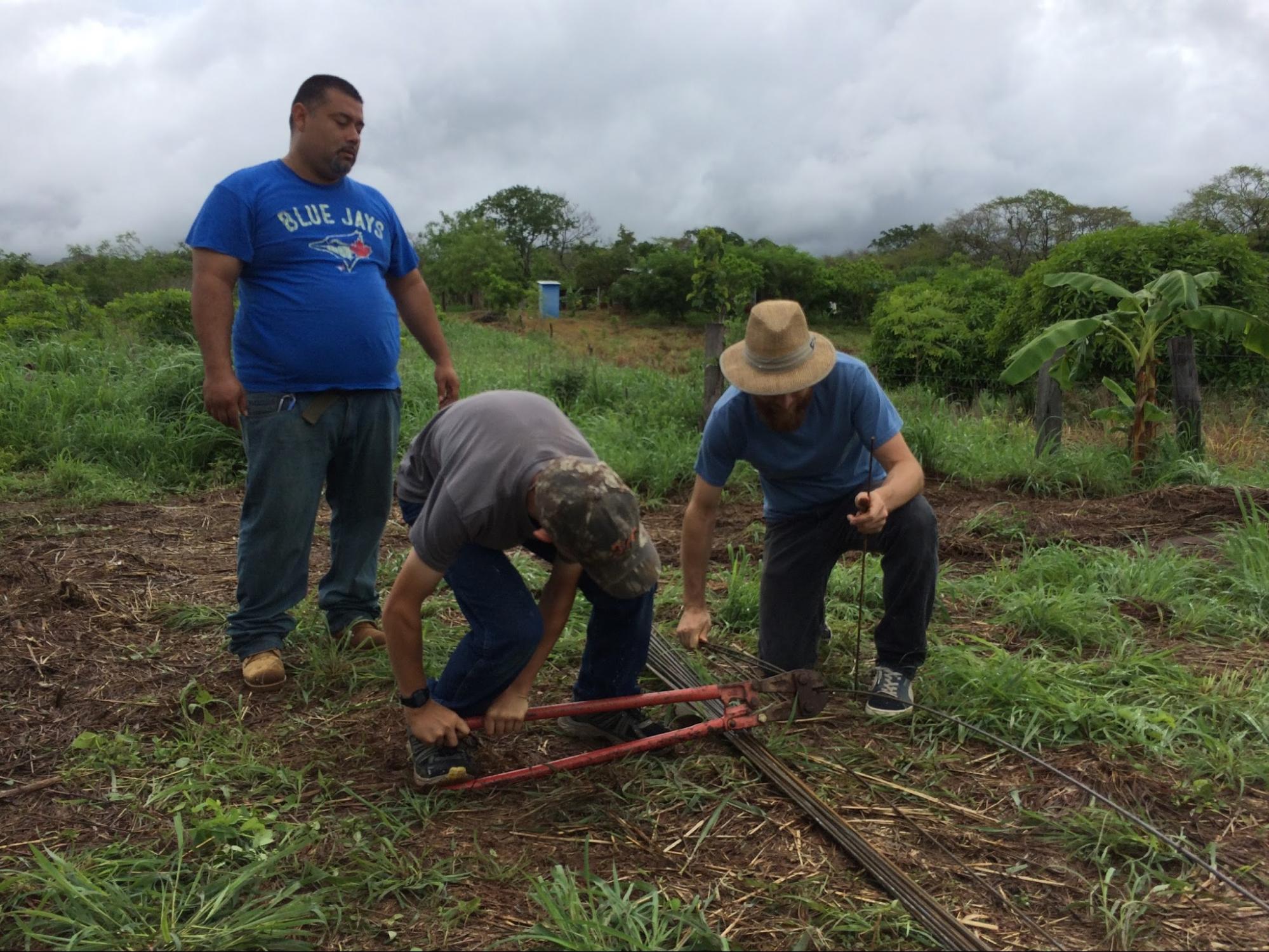 That night, our group attended the bible study down the street. With Kaitlyn's help, we were able to converse, sing, play games, receive a devotional message, and make friends with this group from throughout Nicaragua.
June 17
Saturday started with us venturing into the mountains to the community of Ochomogo. Due to downpours the night before, our van could only make half of the trip. Our team then climbed into a pickup bed and were taken the rest of the way: over hills, across streams, and through scenery that forced you to choose between watching your grip and watching your surroundings. (Disclaimer: No team members were harmed in the making of this journey.)
Once there, we visited another farm and learned about the community's ongoing water project. With their nearest water source being three kilometers away, the locals would have to walk and carry this vital resource to their farms every day. The water project was their solution.
Local families provided the support, funds, and labor to build a system that brings water directly to their homes. Different farms offered land for each part of the system: the well, tank, meter, and solar panels. As a result, their self-sustaining system provides better gardens and farms without needing to be maintained by an outside party. 
That afternoon, we went back down the mountain (just as safely as we went up) and left for Managua. We stopped along the way for ziplining and the Catarina viewpoint, then continued back to the Nehemiah Center.
June 18-19
On Sunday morning, we attended a Spanish-speaking service at the Elevate church. With no work to be done that day, we visited the active Masaya Volcano (and saw its bubbling lava), the Managua Cathedral ruins, and Lake Managua. We ended the day with ice cream at the Nehemiah Center and prepared for Monday's flights back home.
So, now what?
If you're still with me, you're either wondering what I got out of this trip, or when I'm going to end this post about it. Answers: a lot, and soon.
Like I said in the beginning, I wouldn't say my life was changed. It's being changed. If you'd asked me a year ago whether I'd consider an international trip, my answer would've been a solid "maybe"—and not to Nicaragua. Now, I can't wait to go back.
I'll admit that, after spending a week with the express purpose of serving God by serving others, the reality of coming back was difficult to accept. But one of the greatest things about service is that you can do it anywhere. You can make an unforgettable impact on individuals just by being there to encourage them—and everyone needs encouragement. 
Redefining poverty as the result of broken relationships (with God, self, others, and creation) has therefore shifted my mindset for serving. The overwhelming, anxiety-inducing thought of "How can I ever help with all these problems?" has instead become the rewarding challenge of "Who can I help today?" 
I know God led me to Click Rain, the Dispatch Project, and this trip to Nicaragua. I know that what I felt, learned, and witnessed has changed my attitude (and my appreciation for being able to brush my teeth using the tap water).
I just don't know exactly what this means moving forward—especially as my life continues to change. But if He revealed His intentions without challenging us, we'd never grow. And what better challenge than leaving behind everything familiar for something unknown?
Check out future opportunities to serve with the Dispatch Project, and find out for yourself!