October 18, 2016 |
Amanda Oberg
How To Prepare Your Website for the Voice Assistant Invasion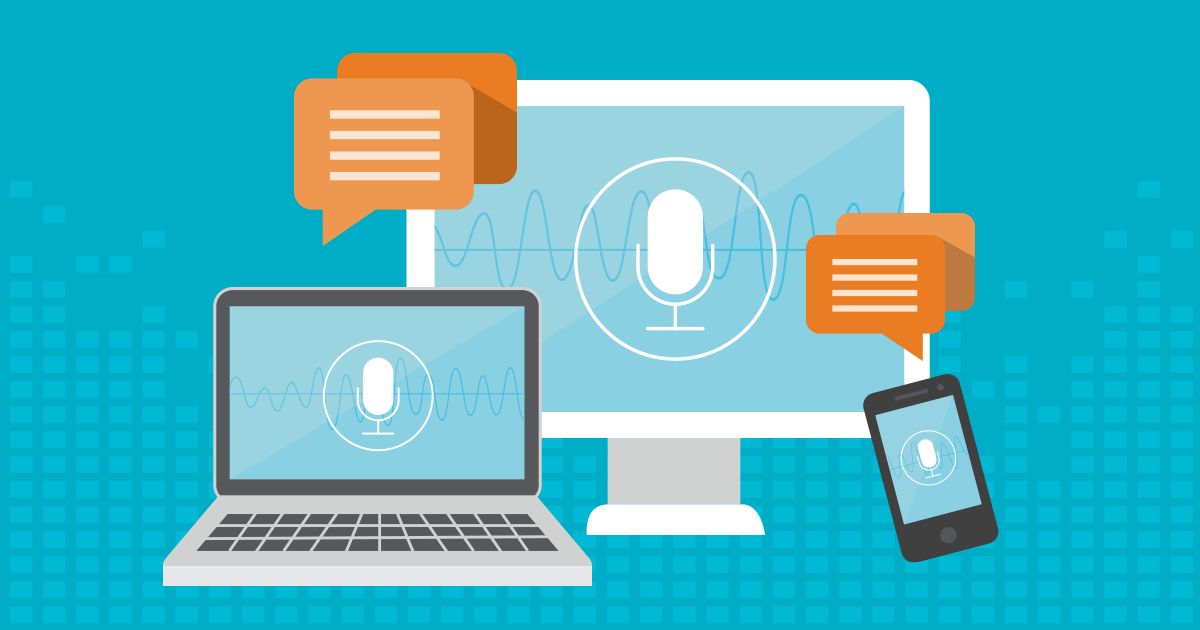 Published in
Reading Time: 6 min. 30 sec.
On September 20, Apple released macOS Sierra to the masses—making their voice assistant Siri available on Mac desktops. Siri, originally the iPhone assistant, made her way to Apple TV remote in late 2015 as well.
Apple is working to create a cohesive user experience across all their devices, allowing the user to perform easy searches, send messages, and more—all through voice commands. Apple is also encouraging app developers to integrate with Siri. On September 13, Apple released iOS 10 for iPhone, making third-party apps (like Uber, Lyft, and WhatsApp) with Siri integrations available to users.  
I was ecstatic when I was about to go for a jog last week and the Map My Run app said I could use Siri to start, stop, and track my run (when paired with an Apple Watch). This is a big win when you don't want to slow down on running trails to track your progress.
As voice assistants continue to make their way onto more devices, users will come to expect to use voice technology to make their lives easier. I mean, would you rather look for a Word Doc on your computer by typing in a search, or just tell Siri to search documents with the term "blog post" from the last week? Yeah, Siri can do that for you.
Yes, voice assistants are invading more areas of our lives, just as I predicted. In 2014, I wrote about how voice command technology affects businesses from an SEO, e-commerce, and user experience perspective. At the time, Amazon Echo, new smartwatches, and the voice-activated Google Now launcher app were just entering the consumer tech world. Since two years ago, many more companies have started using voice command technology in more ways. This trend isn't going to stop either.
Voice assistant adoption is skyrocketing.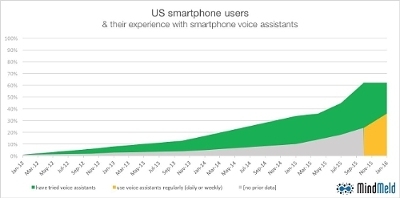 The green in the chart to the right indicates those who have tried using voice assistants on their smartphone between January 2012 and January 2016. According to MindMeld, a voice interface provider, in 2015, use of voice assistants took off with over 61% adoption of those surveyed. The use of Amazon Echo—a connected home speaker with a built-in voice assistant—also grew slightly in popularity, according to the same survey.
Google Home also came out this October, according to The New York Times, adding more voice and AI technology to the consumer market. This voice-activated, in-home assistant can help with daily tasks as well as search the web, and is poised to compete with Amazon Echo.
This is a big deal. Voice assistants are growing in popularity and making life a little easier for users in many ways. So how do you plan for the voice assistant invasion as a business? Start with your website.
How to prepare your website for voice search in 2017
Are you setting your 2017 marketing and technology budgets in the next couple months? Start thinking about how you may need to shift gears to plan for voice search. Your website, plus any apps, digital marketing campaigns, and web content development efforts, may need some extra attention.
Here's where I recommend to get started:
Use conversational tones in content.
"The Google [Voice] Assistant: When we think of the Google search experience today—a rich panel of information on [Zika virus], or an alert telling you your flight is delayed—it's striking to see how far things have come from the early days of 10 blue links. Many of these advances have been thanks to machine learning and artificial intelligence—specifically, areas like natural language processing, voice recognition and translation—and they have helped us build an increasingly useful and assistive experience for users"
—Google
It's not just about what you write on your web pages, but how you write it. Your voice and tone need to match the growing use of natural language in searches—especially since voice assistants are promoting this even more. You don't say to Google, "First Day Fall 2016." You'd more likely say, "When is the first day of fall 2016?" You'd ask a question, as if you were conversing with a person.
The content on your website needs to match this trend. Write your content in a natural way that is personable and addresses the user. (This is just a part of web-writing best practices in general.)
You can do some keyword research to discover long-tail keywords or phrases. But remember, you're writing for the end user, not just search engines. You'll want to watch for an increase in these conversational and question-based search inquiries. You'll also want to consider using these keywords in your paid search ads too, and start bidding on them.
Also consider answering questions in content. People ask questions through voice search, and answering those questions in a way Google can understand can get you in the answer box or as an audible answer.
"What's the difference between an urgent care and a walk-in clinic?" "What are the top places to visit in Sioux Falls?" When researching keywords, try to figure out the searcher's intent. MOZ posted a great video on How to Appear in Google's Answer Boxes, and answering questions was one of the recommendations.
Budget for updated brand voice and tone development, keyword research to see what terms people are using, and content strategy and copywriting to implement keyword research findings.
Optimize metadata.
Voice assistants function like traditional search engines. When a user makes a voice inquiry, your content needs to be discoverable. Enter metadata—the "data that provides information about other data," as defined by Merriam-Webster. Remember, search engines crawl your code, not the pretty stuff that appears to the user (or at least until artificial intelligence takes over).
The important thing is to optimize your metadata so you show up higher in search, and hopefully in Google's answer box, for voice search. Metadata may include:
Image alt text
PDF tags
Video descriptions, captions, and transcripts
Title tags, meta descriptions, and URLs
Schema markup
As voice search makes instant gratification even more attainable, obtaining the spot where your content is an instant answer will be even more important.
Budget for a website content accessibility and SEO audit as well as content creation, editing, and development hours for optimization.
Creating an app? Ask your developer to use SiriKit.
Yes, bake Siri into your app if possible. If you want users to use it, give them options they'll likely come to expect. Learn more about the SiriKit.
Budget for content strategy hours to plan for how Siri will function in app and development hours.
Optimize for Local Search
Many people use voice assistants to find local businesses or get directions. If you're a brick-and-mortar business, you need to ensure you're optimizing for local search. This includes ensuring your business has an accurate and consistent name, address, and phone number not only on your website, but also across all online directories. Be sure to optimize your Google My Business account, so you show up in Google Maps. Have a listing on Apple Maps for Siri users. Also, keep your information current on Kayak, which integrates with Amazon Echo.
Budget for local search optimization.
Integrate e-commerce with easier ways to pay
If your business accepts payments online, you may wish to look into creating capabilities that allow your customers to pay online.
Capital One is already doing this on Amazon Echo, according to Finextra. Customers can pay their bill and check their balance using their voice.
Another example is Square Cash using the Siri integration, allowing iPhone users to make payments on voice command.
Budget for voice integration research, testing, and implementation.
How to win your budget.
Of course, if you're trying to win budget for these things, don't just argue that it will help you prepare for the future of voice command technology. All of the things listed here help you optimize your content and website for either search engines, users, or both.