March 2, 2016 |
Amanda Oberg
How to Write for Sponsored Content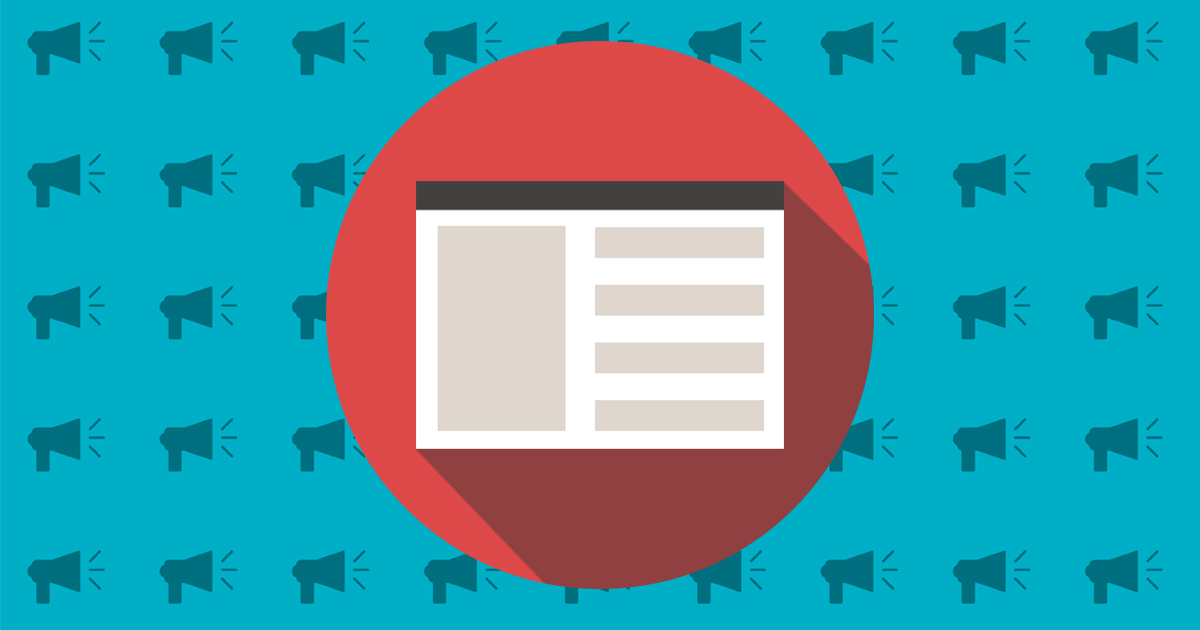 Published in
Reading Time: 6 min.
Have you noticed that it's getting harder to reach your target audience? While traditional online ads still have their place, consumers are noting the mounting number of ads and flocking to ad blockers at an increasing rate. So how do you break through?
Perhaps it's time to consider sponsored content—done right.
What is sponsored content?
Sponsored content is (written, visual, audible) content that someone pays to place in a publication. It blends in, seeming at home among the publication's articles. It's often labeled "sponsored by" or something similar, and is produced by or in conjunction with the company that sponsors it.
This ad model isn't new; magazines have used it for years. Remember advertorials? Sponsored content is similar, only it usually refers to content in the digital publishing space.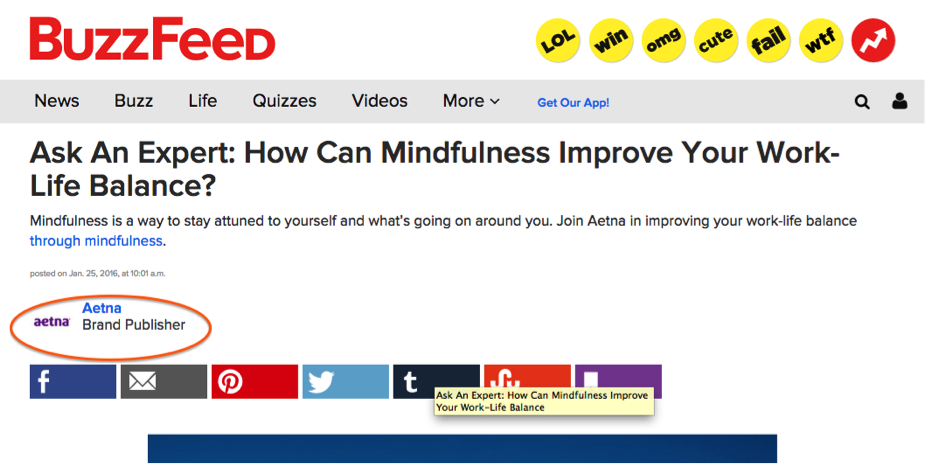 BuzzFeed—an entertainment news site—is famous for their sponsored content business model. Companies pay them to feature sponsored articles related to their brand. The company sponsoring the article controls the message, usually with some guidelines from the publisher.
They're not the only ones. You'll find sponsored content in local newspapers and national publications around the world. Even highly regarded newspapers like the Wall Street Journal and the New York Times generate revenue from sponsored content.
Sponsored content's relation to native advertising
Some people use the term sponsored content and native advertising interchangeably. They're similar but not quite the same.
"Native advertising is an online advertising method in which the advertiser attempts to gain attention by providing content in the context of the user's experience. In short, advertisers try to disguise their ad so it looks like the content you are already consuming on a particular website or application."
This sounds like sponsored content, right? There's a subtle difference.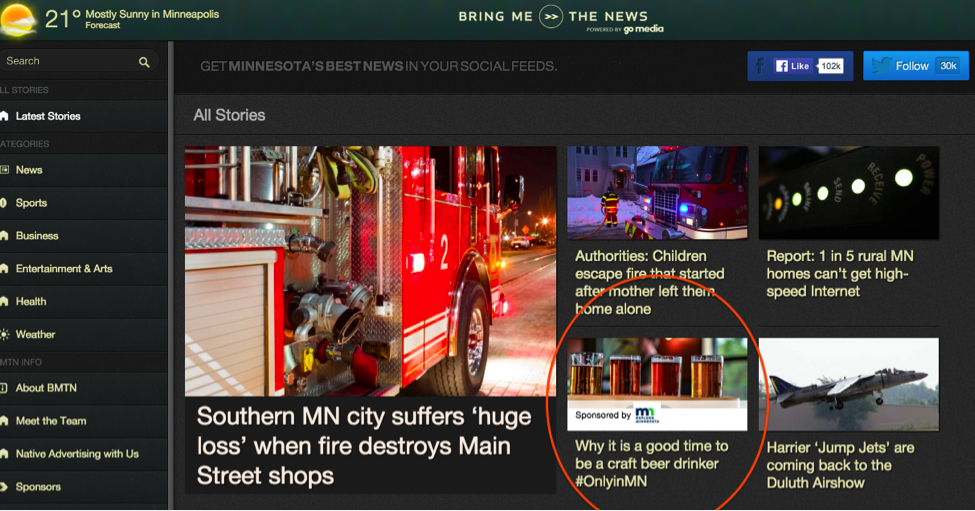 Sponsored content is one part of the larger native advertising umbrella. It's the content that is consumed on a publisher's site. Other types of native ads may also live on a news publisher's site, but then link offsite to the sponsor's blog or newsroom. This would be native advertising, but not sponsored content—even if it says "sponsored by".
How much does sponsored content cost?
Publishers use different ad revenue models for sponsored content, from paying a lump sum for a number of content pieces to cost-per-click (or view).
This inconsistency can be challenging when budgeting for sponsored content. If you need answers, reach out to the specific site you want to place your content. If you want to gauge whether a publisher is charging a fair price, refer to MOZ's genius fair-market price formula for a sponsored article (scroll halfway down the page to view it).
Why care about sponsored content?
Did you know that one of the most successful articles in the New York Times in 2014 was sponsored? Netflix sponsored the article "Women Inmates: Why the Male Model Doesn't Work" to promote its original series Orange Is the New Black. According to Contently, it was one of the publication's top 1,000 articles the year it debuted. It ranked alongside and even better than some pure journalistic content.
TheJournal.ie, an online news source in Ireland, shared a case study from a mental health native advertising campaign they ran, which included sponsored content. According to their findings, they not only increased campaign awareness, but they also increased how much it was being shared, both in-person and on social media. 30% of respondents said they discussed mental health with someone, while 13% mentioned sharing the article with others on social.
The business demand for the sponsored article space and other native advertising methods is expected to see a dramatic increase in the coming years. As more businesses compete for this space, we don't want to see consumers get frustrated by irrelevant, deceptive, or poor content. Just like well-done traditional online ads can still be effective, so can your sponsored articles.
Here are 5 ways to tell if you have a good sponsored article.
1. It's written for the audience.
Every publication has a unique audience, whether it appeals to the masses like USA Today or a niche group like Women's Running. How you talk to the readers of each will be different.
For a moment, let's pretend that your brand fits with a fictional online publication, Incredible Stuff. You've purchased space for a sponsored article, and now you need to submit content. Read the publication's articles to get a feel for the type of content and tone. This is what the readers will expect to read and how they want to be talked to.
2. It tells a story.
Don't ask for the sale. Don't even hint that you want the sale. It's tacky, and you don't want your brand to come off that way. Put on your journalistic cap and focus on the facts.
Sponsored articles are not meant to sell, but rather to inform readers. This is an important distinction, and it's often where marketers go wrong. The content you write should be unique and have inherent value—the reader should gain something simply by consuming it.
If you want to display your logo near the content, that's fine. That's not selling. In fact, making your logo apparent (and clickable) may increase the click-through rate to your site by 15% according to a Polar study. It also helps increase transparency, making it clear that it's sponsored content.
3. It's honest.
Make it obvious that your article is sponsored. If you don't, your brand could pay the price. Think about how you feel when someone tricks you. Readers feel the same way when they think they're reading editorial content but later find out it was paid for.
Contently conducted a study on the trustworthiness of sponsored content. Over 66% of people thought they'd been tricked by sponsored content at some point. The study also pointed out opportunities for sponsored content to shine. Almost 33% of people claimed they'd be just as apt to click on a sponsored article (as they would a non-sponsored one) if it looked interesting. This is where your brand may have an opportunity to shine: you just have to make stellar content. Period.
4. It's well produced.
It takes a lot of expertise and resources to produce a good sponsored article. The content you write should be original. If you have an existing blog, reusing content that's already written for your blog audience is probably not going to do you any favors. Feel free to draw inspiration taken from your blog, but then repurpose it for the sponsored article. You need to think about what value the publication's readers are seeking, then provide that value. Readers can sense laziness, and they don't reward it.
In addition to the cost of placing your article, factor in production. You will need:
A strong writer familiar with journalistic standards.
A designer to curate or create captivating images to accompany the article.
A project manager to collaborate with the publication.
If you're not willing to invest, well, just remember the old saying, "you get what you give."
5. It's helping you reach a goal.
"I just saw competitor X write an article for Incredible Stuff magazine. We should, too."
Why do you want to produce sponsored articles in the first place? If it's for the reason above, don't. Think about your company goals. Can a sponsored article help you reach one or many of them?
If your goal is to increase sales, think about your content as a long-range sales tool. Sponsored articles can nurture your audience. While sales may not be immediate or always get credited back to an article, as you build reader trust and provide value, readers could indeed convert to customers.
Perhaps you have a more immediate goal to increase awareness for a topic or build brand trust? Determine what your article needs to accomplish, now or in the future, to make spending your marketing dollars worth it.