A Final Q&A With Our Summer Interns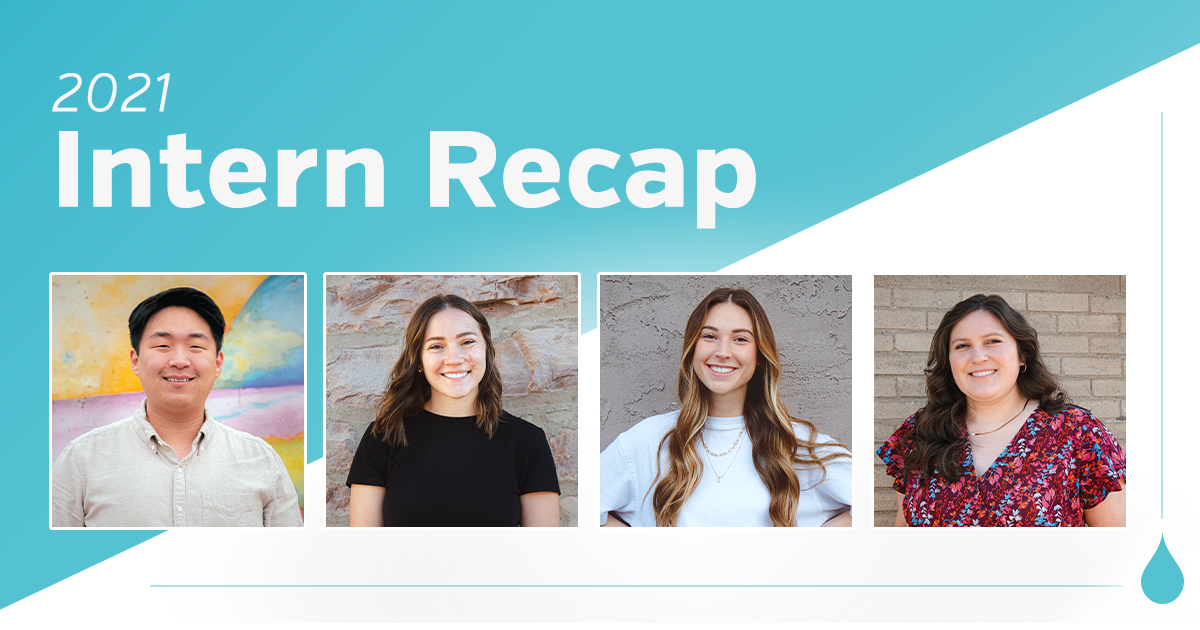 During the final dog days of summer, we decided it was the perfect time to check in and see how our summer interns were doing. They were pushing through thanks to the office's strong AC and the bottomless pots of coffee in the breakroom.
The Click Rain Interns spent 12+ weeks at the office working on a variety of projects and familiarizing themselves with agency life. We sat down with them to get their thoughts and told them it wasn't an exit interview (it kind of was).
What makes Click Rain so unique?
All: Click Rain is committed to their people, both employees and clients. The atmosphere is welcoming, and all the employees are so talented, creating a wonderful learning environment!
What's something you've learned?
Hosea: "As a product marketing intern, I learned about back-end and front-end website development, mastered local SEO and Google My Business, and which walking route is exactly .5 miles."
Jocelyn: "The importance of knowing and understanding clients, as well as time management and planning to a greater extent than in college."
Whitney: "I have learned that everything is a learning experience and it's ok not to know things. The only way you can learn is by asking questions and doing it yourself. I have had an amazing group of people by my side who always made me feel comfortable asking for help when I needed it."
Kaitlyn: "I've learned how to take criticism and to anticipate what the comments will be on my work before it's evaluated. This has helped me become a better writer. Along with having a great mentor to edit my work. Thanks Cameron!"
What is something you'll miss about the internship? (Other than the endless supply of LaCroix that is…)
H: "The people! I have loved getting to be with the other interns and work with the Stratus team this summer! I will also miss the thought-deafening air vent that ran non-stop above my desk."
J: "I will miss working with everyone at Click Rain and receiving honest and professional feedback on the work I produce."
W: "I will miss the people. Everyone comes from so many different backgrounds and has different perspectives on projects it's interesting to see how each and every one plays a role in the final product. Getting to know the other interns has been one of my favorite parts of this internship 😊."
K: "I'll miss the people and the other interns. We've had fun on our intern Slack channel and running to grab coffee or smoothies!"
List 3 words that would describe your internship experience/Click Rain?
H: "Slack, Coffee, and Podcasts."
J: "Challenging, Motivating, and Impactful."
W: "Enlightening, Challenging, and Rewarding."
K: "Encouraging, Educational, and Friendship."
What advice would you give future interns?
H: "Have an open mind to learn new things. Textbooks don't even scratch the surface of what you'll learn in your internship with Click Rain."
J: "Just ask. Ask for feedback if you're not sure what you're doing well or where you can improve. If you think you're capable of more than what you've been given, ask if there's anything else you can accomplish. The more you learn, the better your work will be and more opportunities you will have."
W: "Every single person here wants you to get the most out of your internship. If you have a project you want to help with, just ask! Even if it's in a different discipline than the one your title is, feel comfortable to explore your interests and find what your passion is."
K: "I'll echo the other interns: Ask questions! I wish I would have been more comfortable with this from the beginning, but I've learned so much by just asking. Don't be scared to branch out of your comfort zone."
What's a favorite project you've worked on?
H: "Stratus was the big project I worked on all summer technically… it was also the only project I worked on this summer... so, Stratus was probably my favorite project."
J: "I recently finished a Regency employee engagement poster. For this project, I was given a lot of creative freedom and was assisted in pushing my design further, resulting in a product that I am really pleased with."
W: "My favorite project would be Christmas in July for the Regency properties. It was really cool to see a project through from beginning to end. I realized the impact the emails/webpages I was building have on the people who are receiving these promotions."
K: "I really liked writing emails! They are challenging with the different headings and specific character requirements, but fun. I've been opening more of my emails as a result."
Last question: Would you recommend this internship?
H: "No doubt about it. The opportunity to learn from the best in town is second-to-none. Everyone at Click Rain challenges and supports your growth from your first interview to your last day."
J: "Yes, I have enjoyed my internship and believe that others would as well."
W: "Yes!!!!"
K: "YES. I've had such a fun summer at Click Rain and would love to do it again"
Thank You To Our 2021 Summer Interns!
Although we are sad to see our beloved interns go, we know that they are capable of putting forward some amazing work and will make an immediate impact wherever they find themselves next.
Want To Be A Click Rain Intern?
Summer internship positions are posted in early spring. Interested in an opportunity outside of summer? Complete the job application and let us know what you're looking for.
Apply Now