December 13, 2019 |
Mark Henderson
Multiple Promotions at Click Rain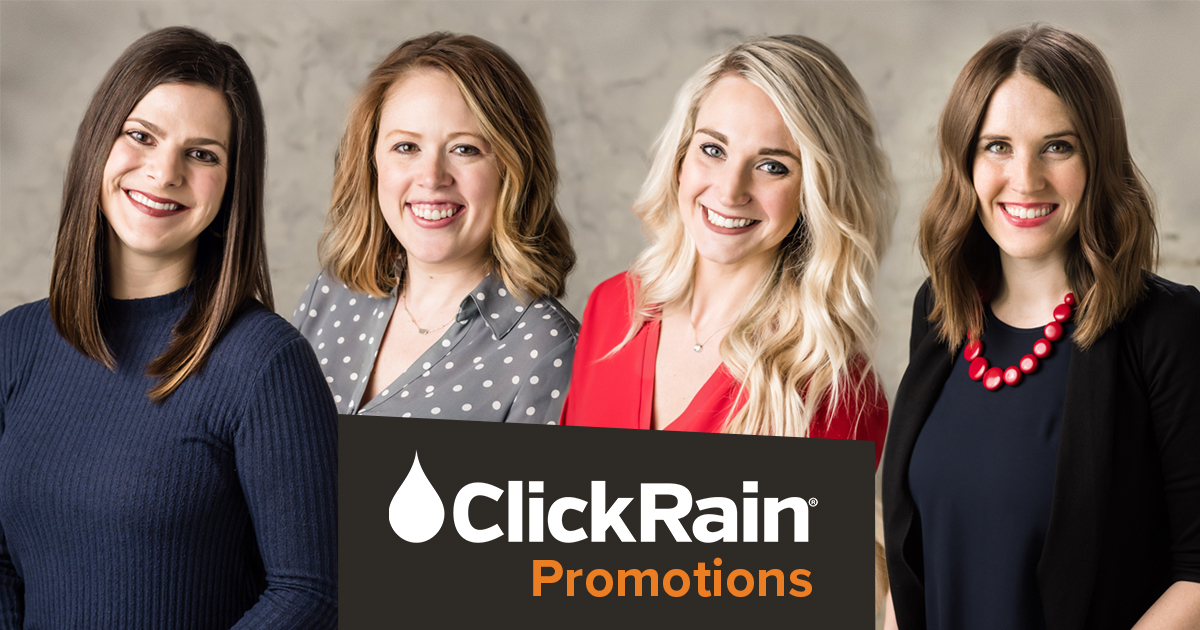 We have recently recognized several team members with promotions. Amy Dancey, Kate Kotzea, Paige Ratzloff, and Amanda Chaon (pictured above, left to right) have all assumed new roles in the company. "While technology is integral at Click Rain, it is the people that push our company forward. These talented team members have already contributed heavily to our success, but what's ahead is most exciting," says CEO Natalie Eisenberg.
Amy Dancey
"Amy joined the Click Rain team just one year ago, but her impact on the content strategy department was felt almost immediately," says Chris Prendergast, Click Rain partner, and chief strategy officer. "She has demonstrated an extraordinary ability to understand business objectives and deliver website and marketing strategies that deliver the best outcomes for both our clients and their audiences. Amy earned the title of Director of Content Strategy thanks to her leadership in this area, and for Click Rain as a whole."
Kate Kotzea
On Kate's recent promotion, Chris says, "In her five years at Click Rain, Kate has had an enormous impact. Her strategic mindset and attention to detail have helped some of our biggest clients push the boundaries of what's possible with marketing. In addition, she has spent this year leading our Product team in anticipation of an exciting 2020 launch. By taking on the role of Vice President of Products and Services, Kate will ensure that all of our clients will have a marketing strategy worthy of the Click Rain brand and that our team members are living up to their full potential."
Paige Ratzloff
"Paige has an excellent track record with leading successful client relationships at Click Rain," says Director of Client Service, Rachael Weiland. "She has led the charge on major website projects and provides a deep understanding of the client industries she works in." Paige's new role will entail a variety of responsibilities aimed at growing and developing the account team. "Her promotion to Lead Account Executive will have her focusing on sales, taking the lead on our internal marketing initiatives, and mentoring younger members of the team as it pertains to navigating leads and sales," says Rachael. "She is experienced in building strong relationships, strategic thinking, and staying calm under pressure. Paige is a professional in all settings, and I am excited to see her continue to shine in this new role."
Amanda Chaon
Our newly appointed Vice President of Products and Services, Kate Kotzea, says, "Amanda has continually advanced Click Rain since she joined our team. She has helped streamline processes, developed great partnerships with vendors, provided invaluable strategies to our clients, and been a great champion for our media team." In her new role as Director of Marketing, Amanda will apply that success to our entire marketing discipline, continuing to push for innovative strategies and growth, both for our team members and our clients. Kate says, "Amanda has a determination, work ethic, and poise that we are so lucky to have."
Congratulations to these smart women. We are eager to see where their tremendous leadership takes us in the new year and beyond.