Paige Ratzloff Promoted to Account Executive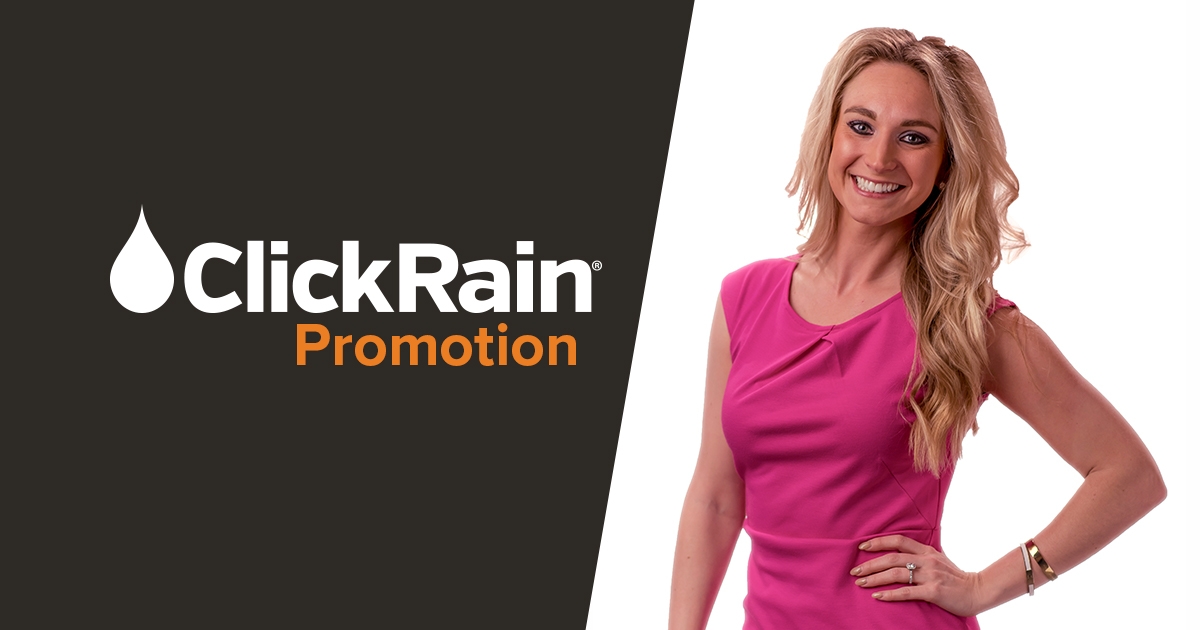 Published in
Reading Time: 2 min.
Paige Ratzloff has been promoted to a new role on the account team: account executive. The promotion positions her as a senior member of the account team. It also brings new responsibilities for new business development and client strategy.
Paige's history at Click Rain has been one of quick success. Starting as our office manager in 2015, Paige has since been promoted to account coordinator and account associate (a title which transitioned to account strategist in 2016).
"Paige has shown great leadership with her accounts and demonstrated her drive to make them successful," says Natalie Eisenberg, VP of Client Strategy. "She works hard, navigates challenges gracefully, and is always willing to jump in and lead on new opportunities."
---
In Conversation
Q: Congratulations, Paige! What can you tell us about your new role?
A: I will be the main account person on all of my accounts. There will be some account transitions to open up time for new business as well, so I'll be taking new business calls and developing those relationships in this new role too.
You started here as an office manager, and now you're an account executive. Tell us more about that.
I just had my 2-year anniversary and a lot has happened in 2 years! So, it's been good. I knew starting out as an office manager that I wanted to grow at a company that would allow me to—but I wasn't sure where or how. Well, 6 months in, I went out to lunch with my manager, and she told me that an account executive is about developing relationships, finding out what the client needs, and working with our team to find a solution. And I thought: "I could do that." From then on, I focused on what steps I needed to take to be an account executive, whether that be learning more about the digital industry or taking new business calls.
How about your new role—what are you looking forward to?
I love my current clients and I'm excited to continue those relationships and grow new ones. I'm also very passionate about Click Rain and feel like we can do awesome things for new business clients. So, I'm looking forward to being a sort of evangelist for Click Rain and sharing our strengths with new clients.
OK, final question: how are you going to celebrate?
Well, it's also my birthday next week (Feb. 22), so I'm celebrating both! My husband surprised me with a bottle of champagne—and my mom's been celebrating for a week. [Laughs] But seriously, I am so honored by this promotion and excited to enter this new position at Click Rain.
Paige, we are so thrilled to have you on our team. Congratulations—we can't wait to see what you do next!