Tanner Sifferath Promoted to Strategist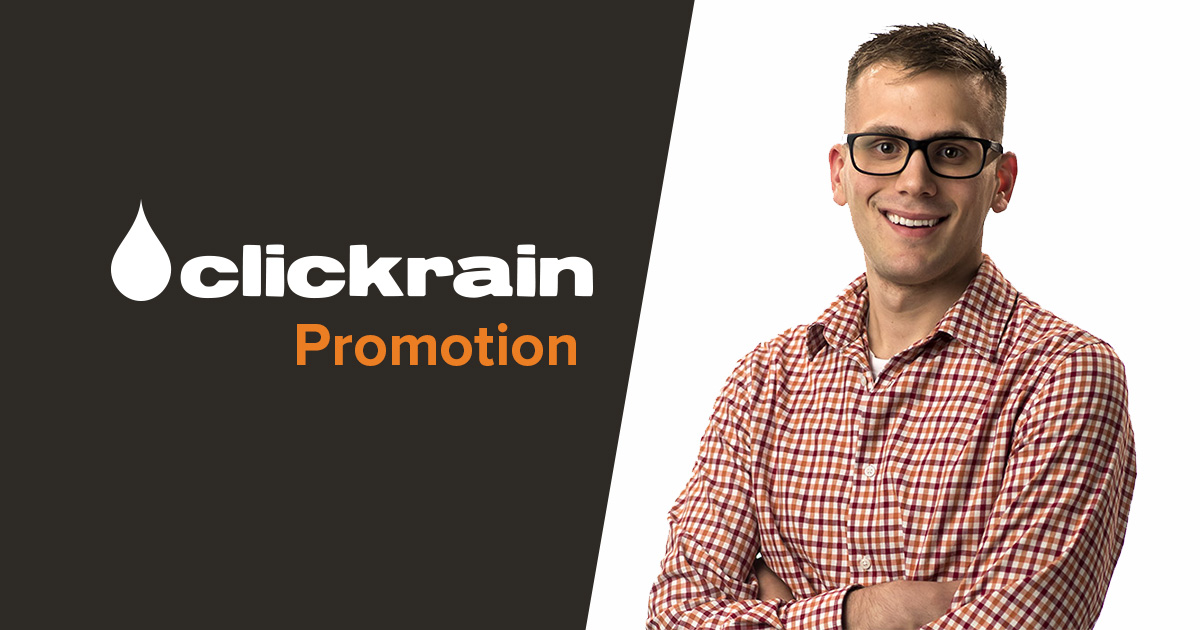 Tanner Sifferath has been promoted to an online marketing strategist. This promotion recognizes his dedication to helping clients achieve their online marketing goals, and will allow him to take on more responsibilities on the OMS team.
Tanner started his career at Click Rain in 2015 as an online marketing intern, and was quickly hired full-time as an online marketing coordinator. In his time at Click Rain, Tanner has played a major role in implementing marketing strategies and managing online advertising for clients such as Co-Line Welding, Regency Hotel Management, & Wheelco.  It comes as no surprise that Tanner is taking this next step into the online marketing strategist role.
"Tanner is an invaluable member of the team," said Kate Kotzea, director of online marketing. "He is always willing to dive in and find the best solutions for clients, learn new platforms, and lead initiatives to continue help growing Click Rain. He has one of the best attitudes around. Clients and co-workers are lucky to have him on the team!"
***
In Conversation
We asked Tanner about his new role on the OMS team and why he enjoys working for Click Rain. His responses reflect his passion for not only his clients, but for his team members as well.
Congratulations on your promotion, Tanner! What are you looking forward to in your new role?
My new role will allow me to take a more active role in developing strategies and tactics to help clients achieve their goals, as well as continuing to implement marketing strategies and managing online advertisements.
Will you be doing anything different with the transition from coordinator to strategist?
I'm going to get nerdier. As an online marketing strategist, I'll dive deeper into industry trends, website analytics, and other key metrics to develop strategies and tactics to help my clients market smarter.
What's your favorite part about working at Click Rain?
It's the people. My co-workers and clients are so passionate about their work and the industry that it doesn't feel like "work" when I'm crafting a marketing plan or preparing a website for launch. And the office ping-pong table, beer fridge, and GIF wars make it pretty easy to come to work.
What's your favorite part about working on the OMS team?
The OMS team is a pretty tight knit group. When we're not debating hot button issues like Apple vs. Android or Microsoft Office vs. Google Drive, we get nerdy about everything marketing. As an OMS, it's a blessing to know that I don't have to be an expert on every single online marketing tool or platform because I know one of my team members is. As a team, we're constantly bouncing ideas and strategies off each other. While clients may only work directly with one OMS, the team's wealth of knowledge and expertise shape all marketing efforts.
***
New title, same great guy. We're happy you're part of the team, Tanner!