March 3, 2015 |
Amanda Oberg
Teamwork is what it takes: DSU Website Launch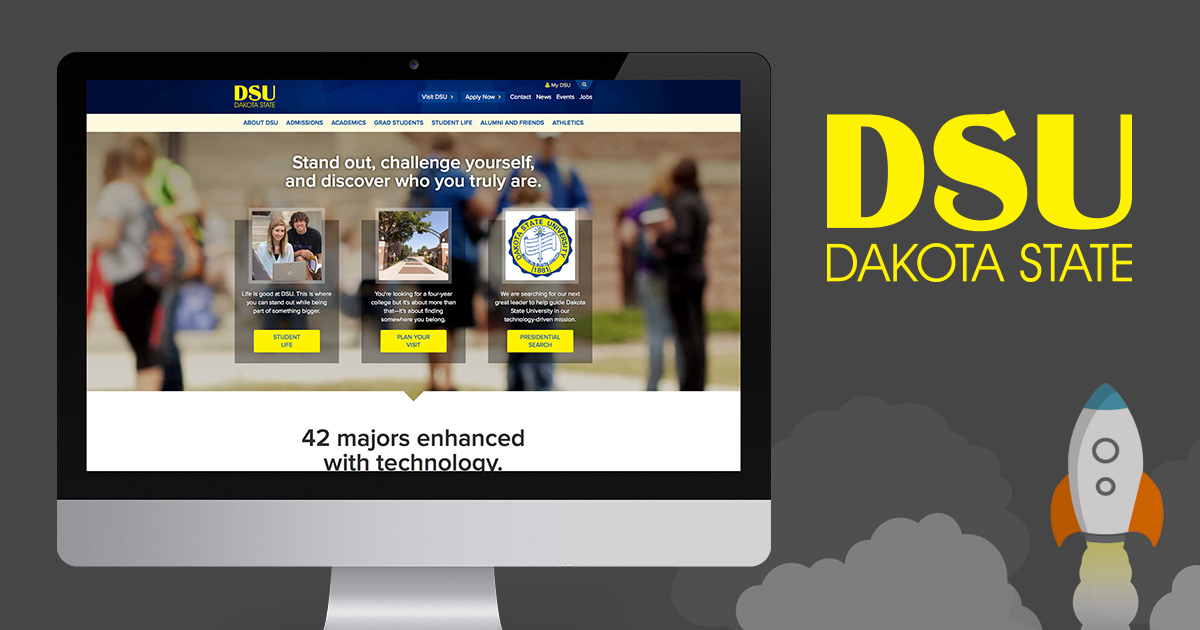 We're not just talking about the Click Rain team. We're talking about the partnerships we form with our clients, like Dakota State University.
DSU.edu is one of Click Rain's largest site launches to date. What started as a 1,000+-page website was dwindled down to a streamlined higher education discovery tool for students and supporters.
"We knew that we needed a new, cutting-edge website that focused on prospective students, their parents, and donors, and alumni," said Dave Overby, Chief Information Officer at DSU. "Finding the right partner to successfully implement a new website was key."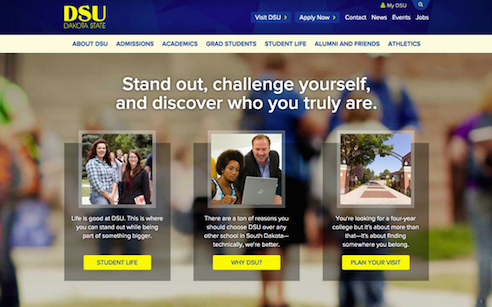 From a development standpoint, DSU wanted to focus on accessibility. According to a 2011 Pew Internet Study, of the 27% of adults living with disability in the U.S., 54% go online.
Click Rain developers worked hard to create a site that works great for everyone. This includes individuals who have difficulty seeing, use a screen reader, or face other challenges.
Our content strategists took a full audit of the original DSU.edu site and the original URL structure. This included reviewing over 1,000 pages of content. Our word assassins restructured the site's content to create a sitemap that elevates the most searched pages. On the back end, the team architected information so DSU staff could easily update content without getting a developer involved.
Our designers created a mobile- and desktop-friendly user experience. The new layout allows visitors to find what they're looking for even faster. On mobile, site visitors can get to deeper content with a single tap via the multi-level, off-canvas menu. In addition, the intuitive quick search helps users find their program of interest.
Even the site's graphics are one-of-a-kind. Our in-house designer drew custom illustrations, such as the "Why Choose" area on the homepage. (Yes, he's that talented.)
Finally, the account team not only kept internal and DSU teams on the same page, but they ensured the project got done on time, and on budget.
Pool the talent of Click Rain's developers, designers, content strategists, account team, and a visionary client, and you get the new dsu.edu.
"The smart and creative team at Click Rain worked diligently with us to create a new site that will help us attract students to our institution," said Overby. "Click Rain's extensive experience and passion for web development has helped to turn our vision into a reality."