Three Click Rain Team Members Promoted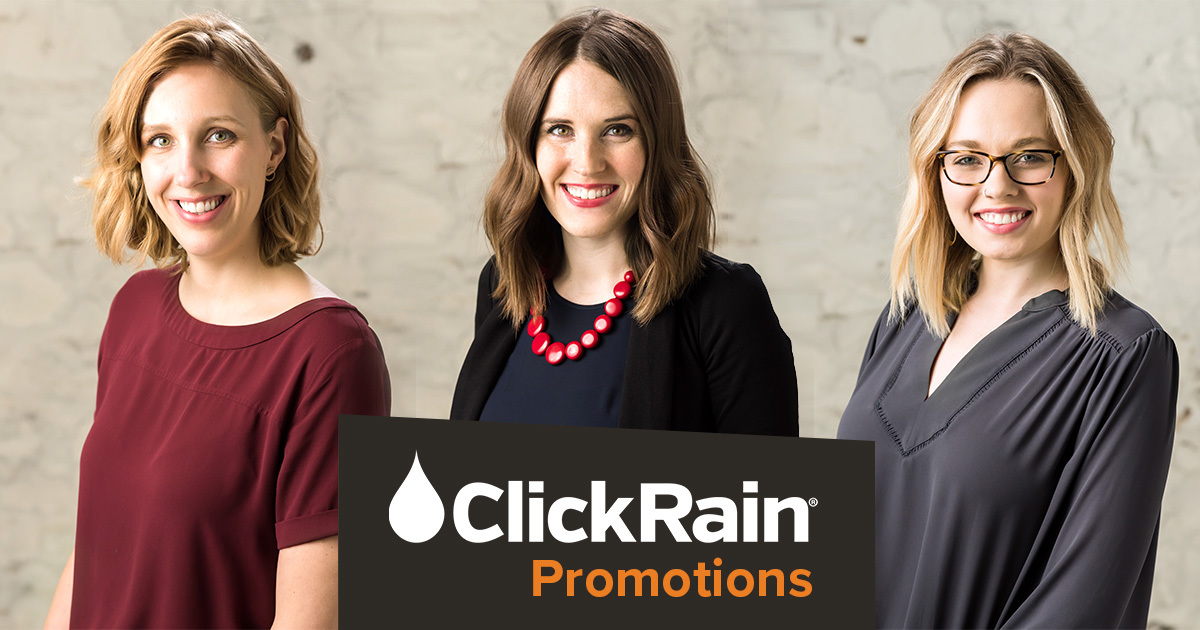 Congratulations to Click Rain team members Allie Hartzler, Amanda Chaon, and Jodi Stahl on their recent promotions!
Allie has been promoted to Marketing Engineer Team Manager. She started at Click Rain in November 2015 as an Online Marketing Strategist and has since climbed the ranks.
"Allie has built so much trust and respect during her time at Click Rain. Team members already see her as a mentor and resource," said Kate Kotzea, Director of Marketing Technology. "I'm very excited for her to officially move into a management role and see the great impact she'll have on our team members, their career growth, and the great work we provide our clients."
In her new role, Allie will manage the marketing engineer team, helping them and Click Rain continue to move forward.
Amanda has been promoted to Media Team Manager. She joined Click Rain in September 2017 and has been instrumental in strengthening our media discipline.
"Amanda has helped our media discipline continually evolve over the past year," said Kate Kotzea, Director of Marketing Technology. "I am thrilled to have her in a leadership role to now make an even bigger impact on the work we do for our clients and setting our team members up for success."
In addition to creating digital media strategies for clients that align with overall marketing objectives, Amanda will oversee the media team.
And last but not least, Jodi has been promoted to Account Executive. She joined Click Rain in February 2017 as an Account Associate and was promoted in March 2018 to Account Strategist.
"Jodi is polished, professional, and capable of handling whatever is in front of her," said Rachael Weiland, Account Team Manager. "She continues to exceed expectations with her attention to detail, exceptional communication skills, and ability to simplify. There are big things ahead for her!"
In addition to developing strategic recommendations in collaboration with discipline leads, Jodi will continue to grow and retain existing accounts in her new role.