July 27, 2020 |
Drew Nolan
Top Email Marketing Trends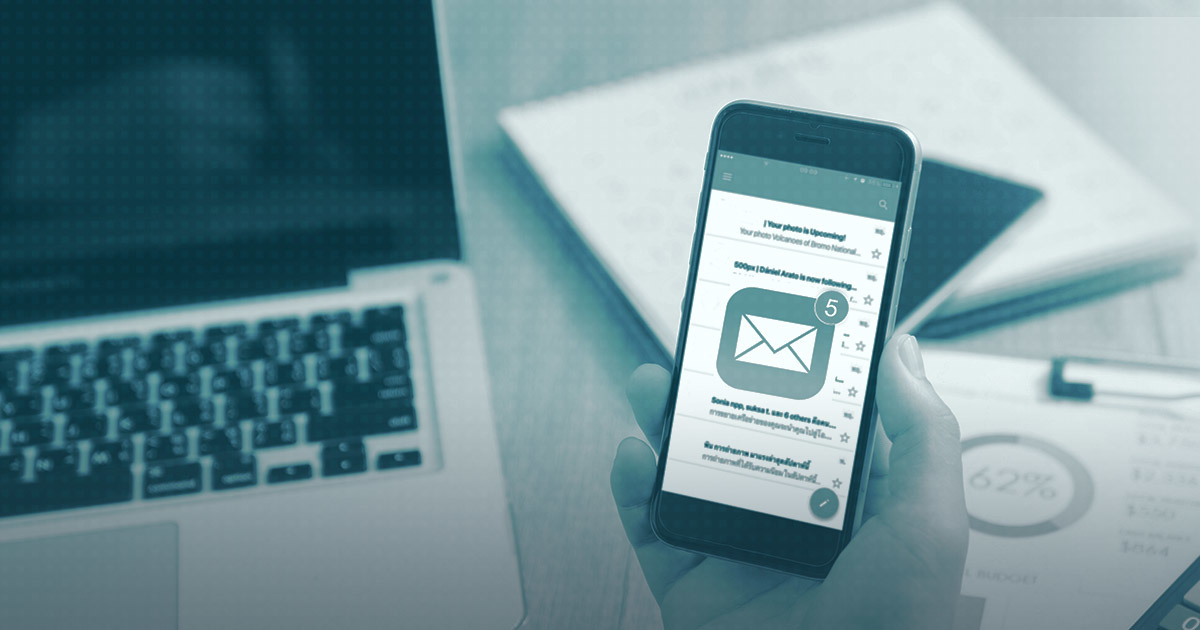 Published in
Reading Time: 7 min.
Email marketing is dying, right? Wrong!
In fact, it's quite the opposite. In 2019, 78% of marketers reported seeing an increase in email engagement, and more than 59% said email is their biggest source of ROI.
But while email isn't dying, it is changing to keep up with consumer behavior and shifts in technology. Find out exactly how email is evolving this year with these top trends.
1. Using emojis in subject lines
The use of emojis in subject lines has grown slowly over the past few years, and they are more common now than ever. As emojis become a part of our everyday language, it only makes sense that these cute little displays of emotions make their way into our messaging.
But be cautious; not all emojis will display in some email providers and browsers. Make sure to test your emails before sending to your list. Check out this chart to see which email providers support emojis.
2. Designing for dark mode
In 2019, major email providers and apps started adopting a Dark Mode display option. Dark Mode was created to reduce eye strain by switching bright backgrounds and colors to darker colors with white overlaid text.
With the introduction of this darker display, certain elements within email design are being forced to shift. For example, in Dark Mode, background colors may look out of place, and certain overlaid text may be hard to read. Before sending your email, be sure to test using Dark Mode on mobile devices.
Learn more about designing an email for Dark Mode.
3. Improved animation in emails
Custom animation has historically been difficult in email. Using GIFs within email content is a great way to achieve animation and interactivity without a lot of complexity. While GIFs have been, and often still are, the most efficient way to give your email some life, animated PNGs (APNGs) are starting to enter the picture because of their reduced file size and enhanced clarity. In addition, APNGs can be switched on and off by the user if you encode this ability.
Adoption of APNGs has been slowed by their lack of support from Gmail and Outlook, but you can expect them to replace GIFs once they are fully supported. See a list of which email providers currently support APNGs here.
4. Interactivity and gamification
Making email content interactive is not a new concept, but this trend is only picking up steam. With the average person receiving over 100 messages in their inbox each day, it's becoming increasingly important to engage subscribers with interactive content before they move on to the next message.
The use of animation and adding games, contests, and quizzes in email content are great ways to entice subscribers to click deeper and ultimately come closer to converting or purchasing.
5. Minimalist email design
Most emails are opened on mobile devices, and with less space and shorter attention spans, email designs are being tidied up and simplified. Email copy is being trimmed, and images and animations are now the star of the show. If marketers need to feature extended content, they are being forced to find creative ways to make subscribers scroll, or they are utilizing landing pages for additional content.
6. Personalization through dynamic content
List segmentation is a great way to send the right content to different groups of subscribers, but individual personalization is only getting easier and more powerful as email marketing platforms offer enhanced dynamic content features. With dynamic content, email messaging can be personalized at the subscriber level by dropping unique content into the same email template based on a selected subscriber attribute (i.e. location, age, product preference).
7. A/B testing and setting your own best practices
What works for a large outdoor equipment retailer may not work for your local pizza shop. It's a good idea to reference industry best practices for email design, subject lines, and other elements, but finding the most successful formula for your brand comes down to consistent testing and documentation.
Most email marketing platforms allow you to A/B test certain elements of an email (i.e. subject line, CTA text, images). To find what works for you, consistently test different email elements and create a reporting document where you can record the results of each test and compare trends.
8. Generating customer feedback and reviews
Email is an effective way to have conversation with customers and other stakeholders. Asking for feedback from customers is a great way to both learn more about perceptions of your product or service and generate more online reviews.
Likewise, asking for reviews on your local listings is a great way to leverage one marketing channel to improve performance of another. Generating positive customer reviews will help improve your business' visibility on search engines and increase the likelihood that a potential customer will visit your location.
---
Interested in taking your email marketing to the next level? We'd love to connect with you. We'll set up a time to discuss your current efforts and how to jump on current trends, formulate the right messaging strategy, and drive more results.