Why We Use Craft CMS to Build Websites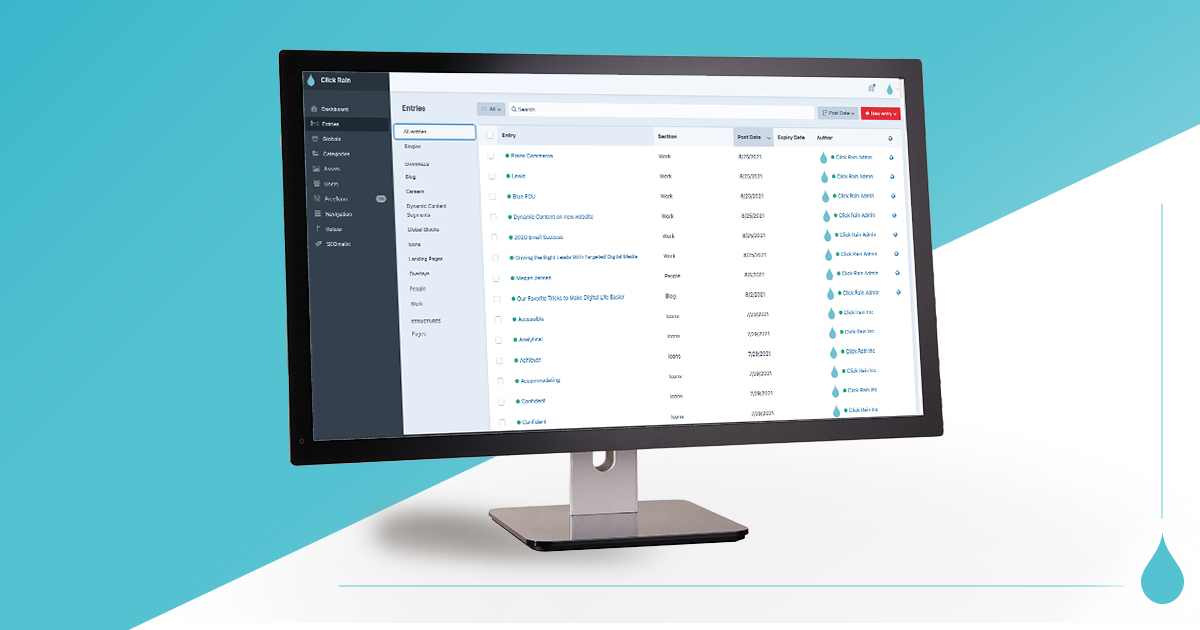 At Click Rain, we build custom, performant, SEO-optimized websites, primarily with Craft CMS. We're often asked, "Why Craft?" and—even more often—"Why not Wordpress?" Let's take a look together.
The largest content management system (CMS) in the world is Wordpress, a freely available, open source CMS that originated as a blogging platform. Wordpress currently powers about 65% of CMS-managed websites. No other competitor comes close.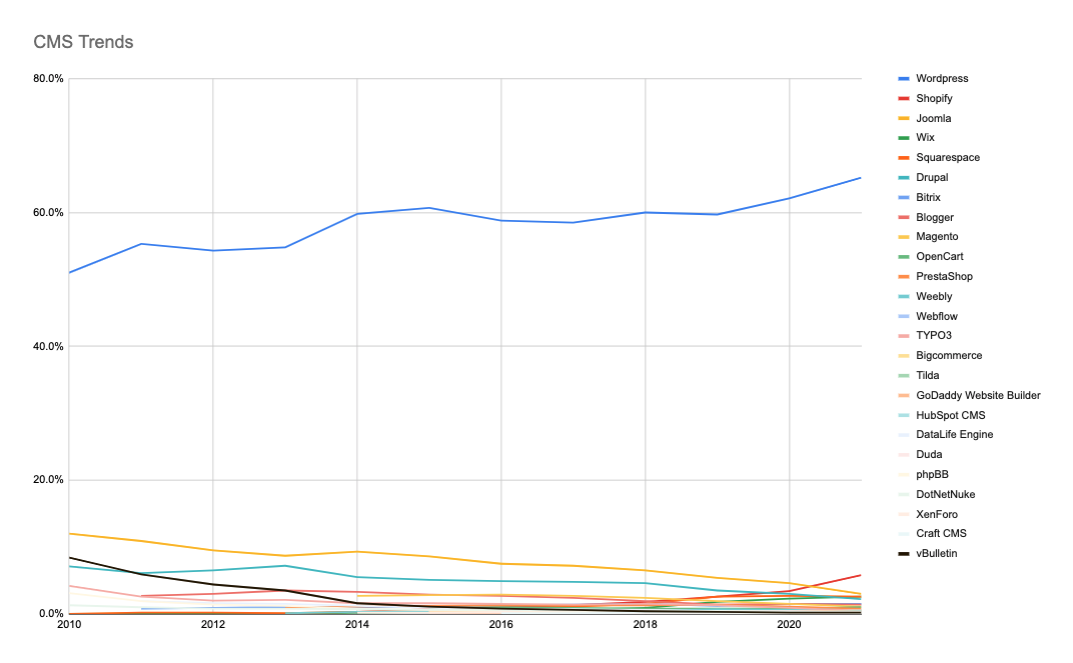 Looking at the top 25 content management systems by market share, Craft CMS checks in at #24 with .2%. So, let's start with the second question first: "Why not Wordpress?"
There are several reasons why we highly prefer Craft CMS to Wordpress, but the main ones boil down to security, the authoring experience, and customization.
Security Concerns:
Wordpress' popularity is a double-edged sword as it is the #1 targeted CMS in the world by attackers. Wordpress currently has logged 111 vulnerabilities during the past 5 years, to Craft CMS's 18. According to Securi, Wordpress websites accounted for 94.23% of their client distribution and the top 10 vulnerable or exploited plugins were Wordpress plugins. In April of 2020, nearly 1,000,000 Wordpress websites were targeted by a Cross-Site Scripting (XSS) attack.
The takeaway isn't that Wordpress is inherently less secure than its competitors. It's simply a very large target vector, as well as an easy target due to its massive third-party plugin library (over 55,000), which vary by levels of professional development, support, and maintenance.
The Content Authoring Experience:
The #1 purpose of a great content management system is just that: content management. Out of the box, a Wordpress back end looks like this:
Whenever we log in to a Wordpress site, we kind of feel 🥺 😥 🤭.
In our opinion, the user interface and content authoring experience are light years better in Craft CMS, especially given some of the flagship features built into Craft (like Live Preview).
Customization:
Click Rain specializes in creating customized, one-of-a-kind websites for our clients. Wordpress sites are often built to be themed—a coat of paint that takes a certain amount of conscribed content structures and lays them out in a specific way. Craft CMS takes a different approach. Out of the box, Craft is a blank canvas allowing our content strategists, creative team, and developers to quite literally "craft" a website completely custom to the project requirements. Our team loves the flexibility of defining a strategy and then building out the content structures within Craft to make this strategy successful.
There is so much more that has been written on this subject. So, if not Wordpress, "Why Craft?" versus other competitors? Let's take another look at the list of top 25 CMSs by market share, this time with Wordpress removed:
Many of the names on this list cater to specific types of websites or to certain users. We'd break this list down to the following categories:
Custom CMS (Craft CMS, Joomla, Drupal, TYPO3, HubSpot CMS, DataLife Engine, DotNetNuke)
Ecommerce/Shopping Carts (Shopify, Magento, OpenCart, PrestaShop, Weebly, Bigcommerce)
No-Code/Low-Code Online Website Builders (Wix, Squarespace, Bitrix, Webflow, Tilda, GoDaddy Website Builder, Duda)
Blogging (Blogger, Wordpress)
Message Board (phpBB, XenForo, vBulletin)
Each of these categories serves a purpose. For sites whose primary function is to sell products, an ecommerce platform such as Shopify may be the best fit. For an organization with minimal budget or technical expertise, a website builder such as Squarespace can be a good choice. If focusing specifically on blogging or building a community message board, platforms such as Blogger or phpBB could fit the bill.
The sweet spot for Click Rain is building custom, performant, marketing websites for our clients, and the large majority fit the Custom CMS category. If we filter that list down, we get this: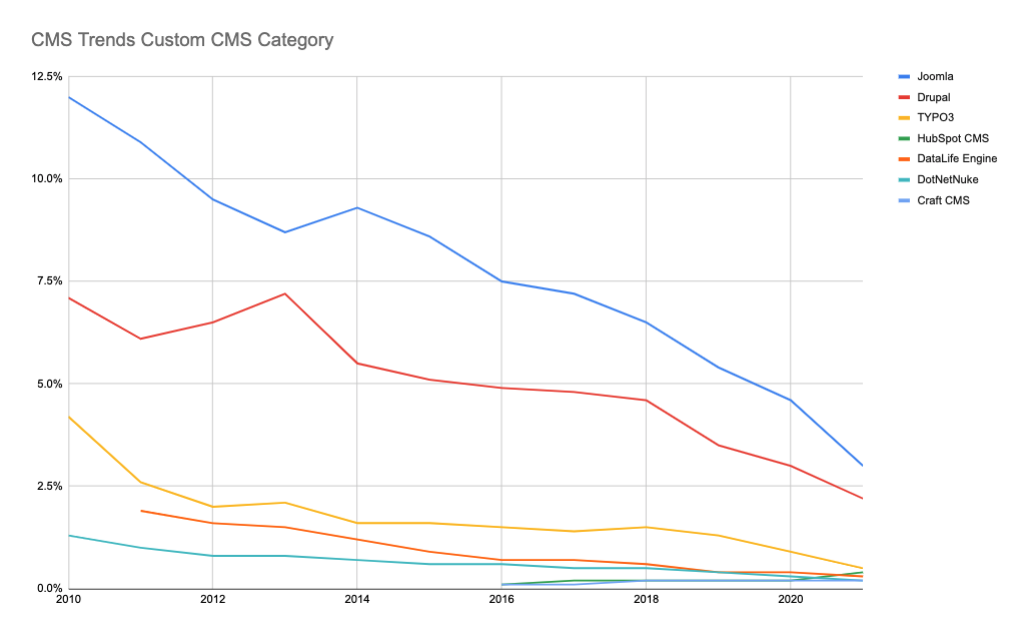 There are some trend lines happening here! We can see a very distinct decline in market share for Joomla, Drupal, TYPO3, and DataLife Engine. Let's exclude all of the CMS products that are trending down: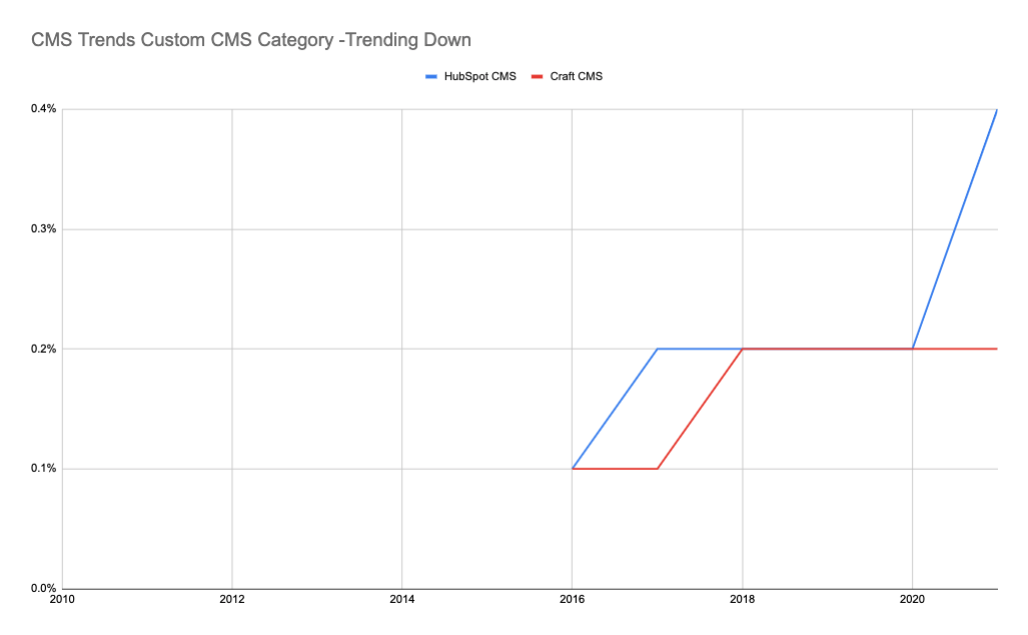 We're left with two products: HubSpot CMS and Craft CMS. HubSpot CMS is an interesting product with deep ties into the rest of the HubSpot ecosystem (we have ❤️ for HubSpot at Click Rain) but it doesn't quite match the features and flexibility found in Craft CMS. And that leaves us with one remaining candidate:

If you want to experience Craft for yourself, contact our team for a free demo. We'd be happy to show you around our favorite CMS.