May 12, 2014 |
Aaron Blumer
Why You Should Care About Native Advertising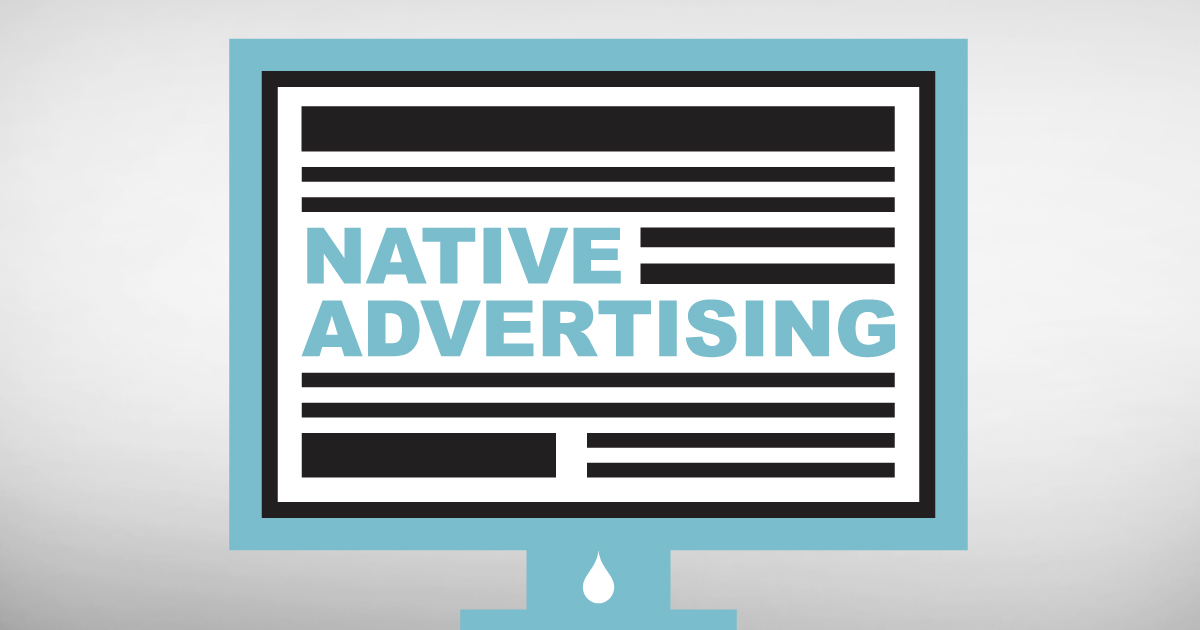 A main goal of marketers is to get people to interact with their brand. As users become more savvy and accustomed to marketers' tricks online, marketers need to constantly evolve and create new tactics to catch potential customers' eyes and their dollars. One of these ways is native advertising.
Native advertising isn't a new strategy. Newspapers and magazines have been using a similar form of native advertising called advertorials for quite some time. Now digital marketers have taken those strategies and implemented them online.
What is Native Advertising?
Native advertising is an online advertising method in which the advertiser attempts to gain attention by providing content in the context of the user's experience. In short, advertisers try to disguise their ad so it looks like the content you are already consuming on a particular website or application. Types of native advertising can include text, images, video, and music.
There are six types of native advertising ad units that are commonly used. They are:
1. In-Feed Units
2. Paid Search Units
3. Recommendation Widgets
4. Promoted Listings
5. In-Ad with Native Elements
6. Custom
In-feed ads have perhaps the largest variation in execution. There are three common examples of in-feed ads. An endemic in-feed ad is in a publisher's normal content and is in story form where the content has been written in partnership with a publisher's team to match surrounding stories. An example of endemic in-feed ads are the three in the screenshot from Buzzfeed below.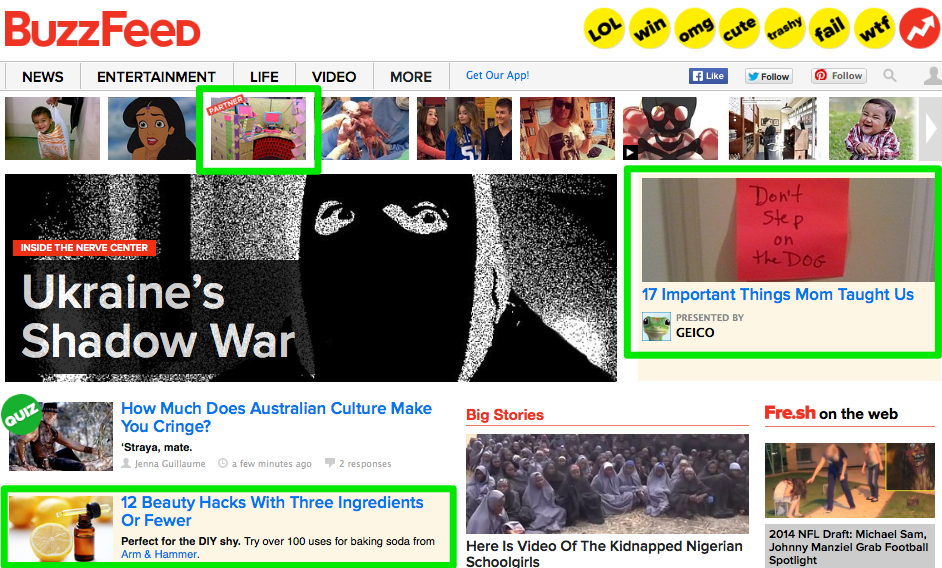 A linked in-feed ad is in the normal content as well. It is a promotional ad and links off of the site to content or a brand's landing page. These ads are seen on Facebook like Amazon's ad in the screen shot below.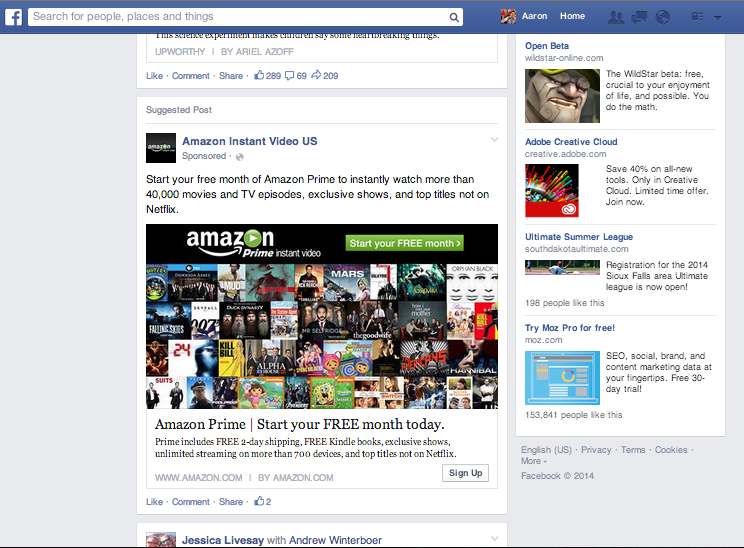 The third type is in the content well and matches the surrounding stories. This type allows an individual to play, read, view, or watch without leaving to a separate page. An example of these are the video ads that play on YouTube.
Paid search native ads vary between the different search engines, but share similarities. In the screen shot below, the blue box is the search results. That is the content you are presented when you use the search engine. The green boxes are ads Google serves you based on your search query. These ads are a form of native advertising. They mimic the content and they are relevant to what that user is viewing online.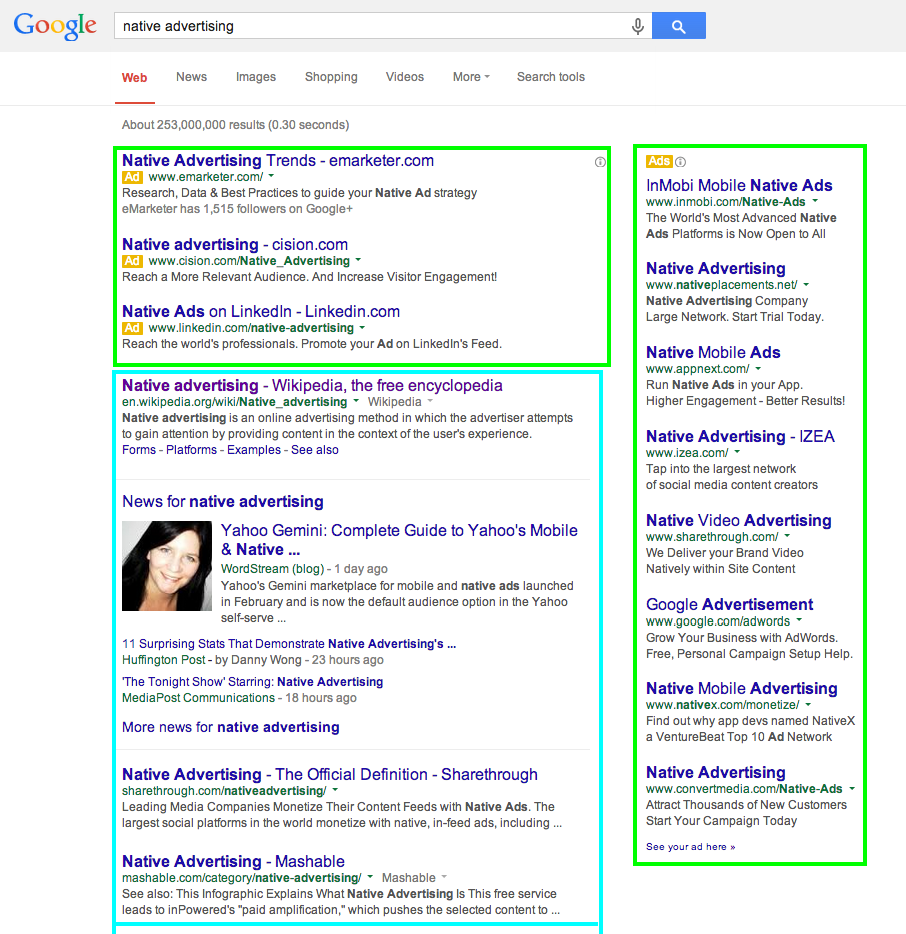 A common recommendation widget is usually integrated into the footer of the page. The ads are delivered via a widget and can be served based on the content of the article or overall content of the website.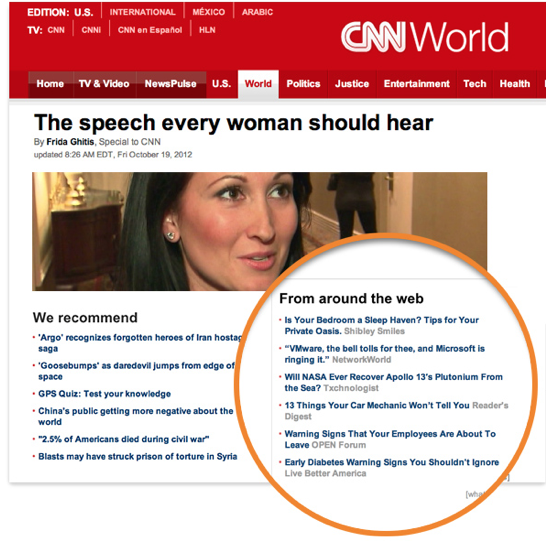 Promoted listings are typically found on websites that don't offer traditional editorial content. They are designed to fit into the browsing experience and are presented to look like the products or services on the website.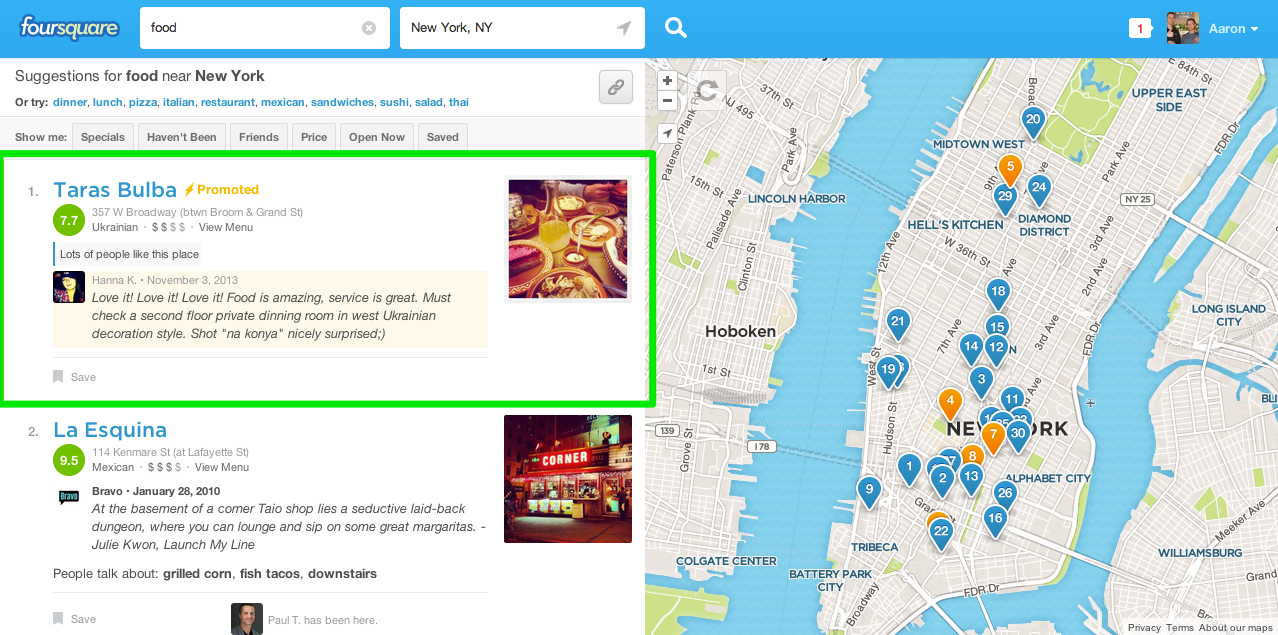 In-ad units are placed outside of the content and contain relevant content within the ad, and they link to an offsite page.
There is no limit to the possibilities when an advertiser uses custom units. This group encompasses all the ad types that don't cleanly fit into the previous five categories.
Measuring Success of Native Ads is Just as Important as Other Advertising
As with all online advertising, it is very important to measure the success or failure of these ads. Now that native advertising is becoming more popular you shouldn't just settle for impressions as a measurement. Impressions are great, but they don't necessarily tell you what you need to know.
Dig in deeper with native advertising. Are users interacting with the ads? Are they clicking them or sharing them? Are the ads leading to conversions or leads? Are the ads making you money? Go into using native advertising with a strategy and use key metrics to measure if the ads are meeting your goals.
Is Native Advertising Effective?  
This really depends on who you ask. Sharethrough notes in an infographic that consumers looked at native ads 53 percent more frequently than display ads. But just because someone looked at an ad doesn't mean they remember it, right? HubShout reports that when asked, "Do you remember the last sponsored article you read?," 62 percent said they didn't remember what it was about or who it was sponsored by.
However, in that same HubShout survey, 45 percent said it is a form of advertising that can be more relevant to them, and 43 percent said it is a form of advertising that can help them learn more about a brand's industry.
Controversy in Native Advertising
Native advertising is talked about constantly and gaining steam with advertisers. With this new spotlight on this type of advertising, controversy has sprung up. The Federal Trade Commission is looking into native advertising to make sure it isn't misleading to consumers who might read it as a real editorial. The IAB has also issued a native advertising handbook in an attempt to define native advertising.
Outside of all the legal controversy, there are some internal issues with native advertising as well. Journalists and editorial purists feel the ads muddy and devalue the content. They also feel it decreases the "journalistic integrity" of the content.
There is also possibility of losing your audience's trust. Ads designed to blend into the content can easily seem spammy and deceptive if not done correctly. People do not want to be tricked and they want to trust that what they are clicking on and what they are reading is the content they were led to believe.
Who's Doing It Right?
Other than the companies in the screenshots above, many companies have been successful with native advertising. A recent example was a promoted post by Starbucks on May 4th in celebration of the "May the 4th Be With You" holiday. The post below received over 9,000 retweets and 16,000 favorites!
Native ads can be effective if there is a solid strategy behind them and the ads are measured appropriately. With many large websites making a majority of their revenue from native ads, it looks as if they are here to stay. Have you seen effective native ads? Do you feel they are relevant to a consumer or do they just take up valuable real estate that should be used for content?