It's all about the people.
Click Rain hires great people. We use a time-tested vetting process which includes multiple rounds of interviews, work assignments or examples, an EQ test, and reference checks to ensure the people who join our team align with our Core Values and role requirements. The point isn't just to be selective—it's to find individuals who will truly excel here.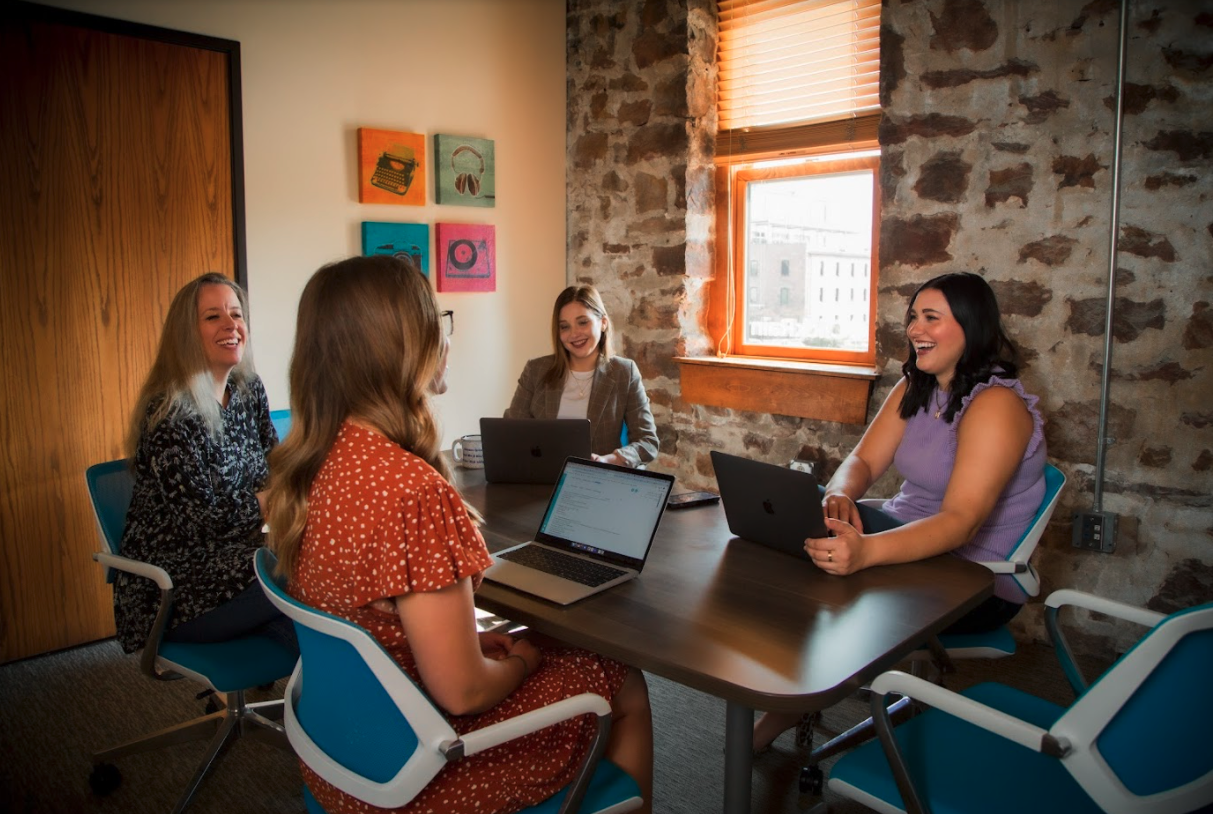 Our interview process
We take hiring very seriously, but we also want the process to be smooth for every candidate. Here's what to expect.
1️⃣ You'll meet a few team members, including our CEO.
2️⃣ We'll explain Click Rain's culture, values, and services.
3️⃣ We'll ask you questions pertaining to the job opening.
4️⃣ You'll have a chance to ask us any questions.
From there, we'll get back to you about next steps ASAP. We value your time, so it won't be long. Simple, right?
"We understand that you are more than an employee. You are an individual with unique talents."

— Carissa Schoffelman

VP of Administration
Culture at Click Rain
We do our best to hire team members who can groove with our unique culture and values. Here's a bit more about us.
Atmosphere

Click Rain's people-first culture understands that you're more than just an employee. You are an individual with unique talents. You have an interest in your well-being, and so do we.


We lean into our 5 Core Values to make Click Rain a stellar place to be, allowing you to leave your work at work and enjoy the rest of life, too.

We advocate for balance in the workplace, putting people into the equation of our business decisions and upholding our purpose each day in unique ways.

People

Our people are the best in the business. (Yes, we're biased, but still!) In addition to their professional chops and experience, they care. If you are hired at Click Rain, you'll find yourself surrounded by like-minded people with a shared commitment to excellence. Meet the team.

Onboarding

Starting a new job can be a whirlwind and is a big life change. We do our best to make the transition easier by offering a systematic, gradual approach to your orientations and training.

Our 90-day process helps you first understand who we are and what we do before diving into systems and role-specific training—all while practicing some real work. Cameron, our Content Writer, even wrote about his sweet onboarding experience.

Benefits

When it comes to benefits, Click Rain offers all the good stuff and more. We have robust and affordable health insurance plans, partially paid by the company. We also offer affordable dental, vision, long term & short term disability and accidental insurance plans (at cost to the employee).

These options allow you to pick and choose the right benefits package that works for you and your family. You'll be 401k eligible after 6 months of full-time work, with up to a 4% match from Click Rain and no vesting schedule.

PTO? You Know It.

We have a robust paid time off plan, starting at 3 weeks and escalating year-over-year, until year 10, at which point you could potentially have 6 weeks of paid time off. In addition to formal PTO, employees also receive:

→ 8 paid holidays
→ Volunteer time off
→ A birthday holiday
→ Bereavement leave
→ Partially paid maternity/paternity leave
→ Extra time off to serve the community or abroad

To top it off, we have a flexible work environment & are remote friendly, allowing you to attend appointments, kids activities, or other important events in your life without draining your PTO bank. Dentist appointment? No problem—just make up the time over lunch! Save your PTO for when it matters most.
Click Rain + Lemonly
Did you hear? We joined forces with Lemonly, an infographic design agency, to level-up our digital services. And the future is looking sweet.
GET THE LATEST LOWDOWN